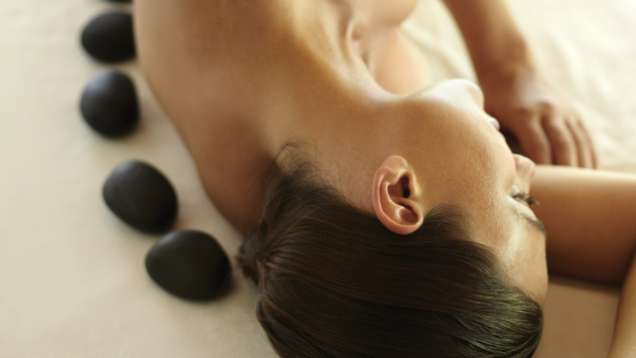 For total comfort and nurturing, your body is gently wrapped, allowing organic essential oils and other ingredients to add nutrition, detoxify and decongest. Each treatment includes a 30-minute relaxing back massage.
Gotu Kola and Oat
The botanical benefits of gotu kola – also known as tiger grass – include hydrating and toning the skin. Relax during this skin-firming body mask while a head massage enhances the experience. The treatment concludes with a luxurious body lotion that is massaged into the skin to add to this all-over moisturizing treatment.
Neem and Herb
Earthy aromas emanate from this deeply cleansing concoction of green tea, dried flowers and local medicinal herbs, including neem. While this organic garden mask nourishes and tones the skin, our therapist attends to emotional stress, aches and pains with a marma-point head, neck and shoulder massage that releases stress from head to toe.

Beras Kencur
Following the Balinese tradition, we grind white rice flour and freshly crushed wild ginger, known as kencur, into a warming paste and apply it to the whole body. While this homemade organic blend eases tension throughout the body, you enjoy a head and face massage to unburden the mind and replace fine lines with visible serenity.

Mountain Earth
Volcanic earth minerals naturally nourish the skin. Sourced from the surrounding mountains and blended with ylang-ylang flower water, this indigenous body mask replenishes the skin with organic hydration. A banana leaf wrap enhances the feeling of being one with the Balinese landscape. Finish with a warming shower and Four Seasons flower lotion.
Lulur Sayan
Originally a beauty secret of Javanese royalty that was carried across the Java Sea by the Balinese, lulur is a luxurious body scrub. The treatment begins with a gentle, aromatic exfoliation to remove dead skin cells. Skin-nurturing yogurt soothes your freshly buffed body before you dip into a hydrating bath sprinkled with local fragrant flowers and enjoy a therapeutic cup of loloh, a Balinese herbal elixir. This is followed by a traditional Balinese massage and the application of body lotion.

Note: Prices and treatments are subject to change without notice. Prices are subject to a 21% tax and service charge.
Each treatment includes a 30-minute relaxing back massage.