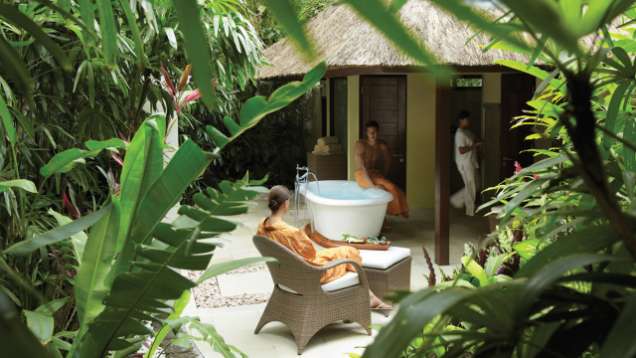 With strong parallels to African, Tibetan, Chinese and ayurvedic healing, traditional Balinese medicine aims to reestablish balance and wholeness. Central to the practice is the philosophy of Tat twam asi, literally translated as "you are that." These three simple words eloquently encapsulate the wisdom of the many belief systems that shaped and influenced the Balinese healing traditions – all focusing on the concept of "complete oneness." This means there is no separation between us and what is all around us – the seen (sekala) and unseen (niskala).

Our Panca Maya Kosa (or Five Layers of Being) keep us in constant contact, at both conscious and subconscious levels, with the surrounding world. Ill health, therefore, is believed to be caused not only by imbalances within our physical body, but also by our physical and spiritual disconnect to the larger environment of which we are a part.

Addressing the "feeling" layer of our Panca Maya Kosa, these four treatments represent authentic Balinese healing traditions that reconnect you to your whole, complete self.
Tantric Bliss
The Balinese Tantric Bliss massage brings the divine power of Shiva (masculine) and the creative energy of Shakti (feminine) together by awakening the kundalini, a very intense and healing form of energy that rests dormant at the base of the spine. When awakened, the male and female energies within us ascend up the spine, energizing and healing, until they unite in a pure state of bliss that circulates throughout the entire body.
The treatment begins with a tantric ritual that clears the mind, relaxes the body and stimulates energy circulation through a series of deep, intense breathing exercises. The massage is performed by a pair of therapists who combine their energy to awaken the kundalini from its slumber, using gentle, sensuous and flowing movements and sacred mantras. Once it is awakened, a warm, pleasurable sensation at the base of the spine works its way up and spreads a wonderful feeling of peace and contentment throughout the body, calming the mind and allowing the spirit to soar to new heights.
120 minutes – IDR 2,950,000
Couple: 120 minutes – IDR 5,500,000
Goddess Within
The Balinese believe that the divine energy of the powerful male gods is static and requires the creative energy of their female consorts to be fully manifested. Every woman embodies this dynamic, creative energy, and holds within her the beauty and miracle of creation. This ancient Balinese ritual for women, customarily reserved for a bride before her wedding day, is intended to awaken your inner goddess.
The treatment begins with a traditional mesiram and steam bath that cleanses both body and spirit. The fragrant water and steam are prepared using purifying betel leaves and sweet-smelling kembang rampe. The steam bath is followed by a goddess massage featuring ancient Balinese healing techniques delivered with a mixture of limestone powder, fresh kaffir lime and flower-infused oil to tighten, repair and soften the skin. The face is then cleansed with rice water and a purifying mask is applied. To complete this divine ritual, a nourishing bath of coconut milk and lemongrass is followed by a body scenting using traditional Balinese flowers.
Vigour and Vitality
For centuries, Balinese men have sustained their vigour and vitality by honouring their physical and spiritual connection to the earth goddess, Dewi Sri. They plant and harvest her fields, respect her whims, and use anget anget or herbal medicines to strengthen and boost their energy. This specialty treatment features traditional Balinese herbs, roots and spices that are well known for their potency and healing properties, strengthening and fortifying a man's physical energy and mental fitness.
The treatment begins with an internally cleansing tonic of wild ginger root, followed by an herbal steam bath. An invigorating and warming body scrub of clove, black pepper and cardamom stimulates blood circulation and uplifts the spirit, while preparing the body for the Putra Perkasa massage. This powerful massage features traditional Balinese stretching techniques that work together to deeply soothe and relieve strained muscles and joint pain, as well as to boost circulation and energy. A Pasek Bumi body wrap, warm herbal bath and vitality tonic round out this positively energizing treatment.
Toning Recovery
Among Balinese women, stomach binding and weteng massage have been used for centuries for after-birth care to prevent herniation, reposition the womb, increase weight loss, and tighten the waistline. Traditionally, this treatment is carried out by an experienced midwife for 42 consecutive days after a woman gives birth, but you don't need to be a new mother to benefit from this highly coveted Balinese secret to a tight and toned figure.
The treatment features a pelvic massage using a herbal paste and a hot stone compress that speed up the breakdown of stubborn fats and toxins, and assist in flattening the abdomen. The abdominal binding is traditionally worn for at least eight hours each day. Leave yours on as long as possible in order to see maximum results. An herbal jamu tonic is served after the treatment to aid the results.
Note: Prices and treatments are subject to change without notice. Prices are subject to a 21% tax and service charge.