Couples
On-Site Activities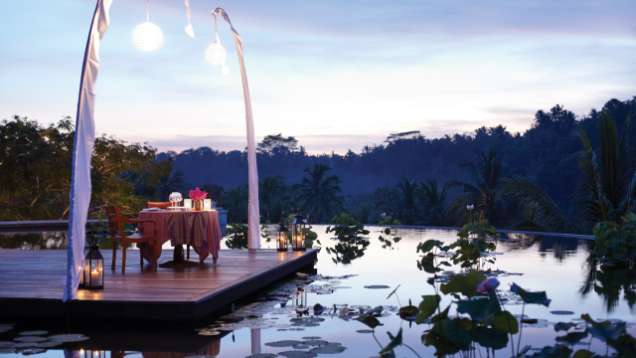 A perfect hideaway for couples, Four Seasons Resort Bali at Sayan is cloaked in verdant greenery, surrounded by shimmering rice terraces. The dramatic architecture hovers above a quiet valley. Setting and staff work in synchronicity to inspire contemplation, restoration and creativity.

Once you've arrived in this paradise, you may never wish to leave. And with so many activities based right at the Resort, you won't need to!
A Day in the Life of a Balinese Farmer

Start the day with a morning trek through the Ayung River valley, followed by breakfast overlooking the rice paddies. Then learn to plant rice seeds and transplant the shoots. To refresh, enjoy a relaxing Batu Kali River Stone Bathing Ritual in the Spa. The experience ends with a riverside lunch.
AntiGravity® Yoga

Gently swing, swivel and stretch in side-by-side hammocks, exploring enhanced and inverted yoga postures together. Stress-relieving and couple-connecting, AntiGravity® Yoga is a fun way to fast-track flexibility and elevate oneness. Packages of 5-hour and 10-hour yoga time are also available.