With a vibrant arts scene and rich Native American history, the aptly nicknamed "City Different" provides some of the best dining, shopping, sightseeing and outdoor adventures the Southwest has to offer. To help you make the most of your visit, we asked Harry Hirsch, Front Office Manager at Four Seasons Resort Rancho Encantado Santa Fe, for insider tips on the best things to, from sampling chilli sauces to hiking the region's beautiful trails.
Art scenes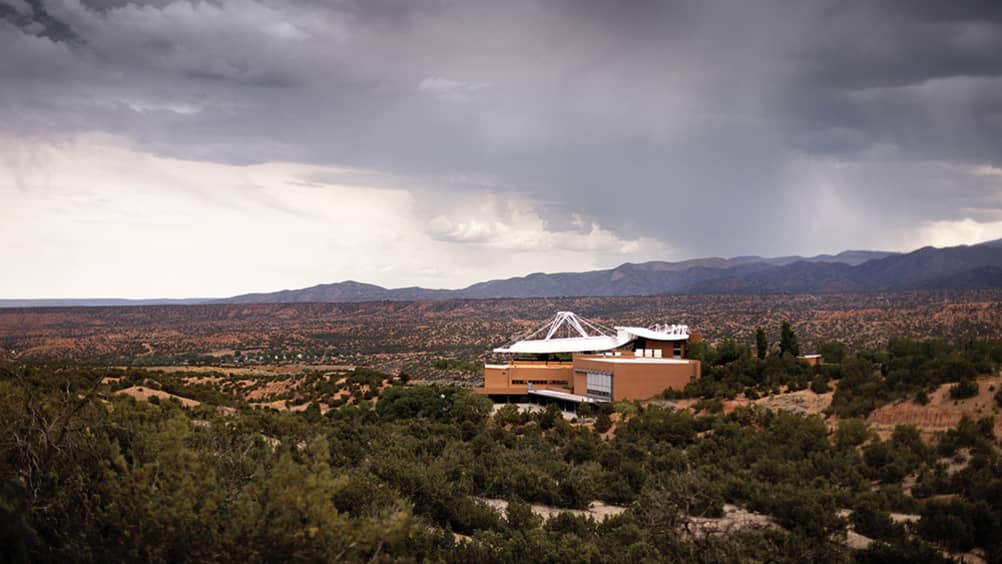 Photography courtesy Four Seasons Hotels and Resorts
Art is reason alone to visit Santa Fe. Stroll down the half-mile–long Canyon Road, which is home to an extensive collection of local galleries, restaurants and boutiques. Shidoni Foundry and Galleries and Tesuque Glassworks both offer cultural experiences that are off the beaten path. These gems are tucked away in the nearby rural village of Tesuque, situated on a former apple orchard. The Santa Fe Opera and The Lensic Performing Arts Center are also musts. The former, held in July and August, is one of the world's premier summer opera festivals, with a dramatic adobe theatre that blends with the desert setting, while the latter stages plays, concerts and readings throughout the year.
Photography courtesy Four Seasons Hotels and Resorts
Local dining guide
Stop at Maria's New Mexican Kitchen for one of the famous margaritas. The restaurant boasts an extensive list of more than 100 different varieties. Then, it's off to dinner at The Shed. This legendary Santa Fe restaurant is well known for its New Mexican red and green chilli sauces. Terra restaurant at Four Seasons Resort Rancho Encantado also has a diverse menu, ranging from gourmet burgers to local dishes, all perfectly plated and served up with an exceptional view of the Jemez Mountains.
Downtown, Santa Fe Plaza offers a wide variety of dining options, including Southwestern cuisine at the Coyote Café and Spanish tapas and fine wines at Taberna La Boca. Geronimo is a fine dining establishment that everyone in Santa Fe has come to love—it's set among the many galleries on scenic Canyon Road. Try the elk tenderloin, a signature dish, accompanied by a bottle from the award-winning wine list.
Southwestern shopping
Although Santa Fe is not known for its haute couture shops, the city's unique and authentic boutiques offer contemporary takes on Southwestern style. Stop in at Nathalie on Canyon Road for cowboy shirts, hats, Western vests and hand-tooled leather belts. Back at the Ranch specializes in custom, handmade cowboy boots for men and women, and Native Jackets offers a broad selection of gorgeous coats, scarves and blankets—everything is handmade. You can even customize your own garment.
Visit Cowboys and Indians for turquoise and silver jewellery and a great selection of earrings, and Santa Fe Dry Goods for scarves, handbags and accessories from the likes of Etro, Rick Owens and Dries van Noten. Also, visit James Reid, Ltd., for a high-quality leather belt with a handsome silver buckle or a Western bolo tie.
Outdoor adventures
The most scenic spot in all of Santa Fe is at the top of the Santa Fe Ski Basin, where you can take in a breathtaking view at an elevation of higher than 12,000 feet (3,600 metres). The Camino Encantado Trail—located on the Resort property—Tesuque Creek, and Rio En Medio are excellent trails for hikers of various fitness levels.
For adventure-seekers, whitewater rafting, mountain biking, skiing and snowboarding are all great options. Pair up with the Resort's exclusive adventure activity company, Adventure Partners, for a menu of choices, from short, 90-minute hikes to full-day excursions. Remember to go out with professional, well-established guides, use sunscreen, drink plenty of water (keep in mind the 7,000-foot/21,000-metre elevation), and dress for Santa Fe's sometimes considerable temperature swings.
Rest and relaxation
At the Spa at Four Seasons Santa Fe, indulge in the unique Mountain Spirit Purification treatment. This Native American–inspired experience begins with a smudging ceremony (a ritual of burning bundles of sage). An adobe clay body mask is then applied, followed by a soothing scalp and foot massage. After a warm shower rinse, a juniper-sage hot stone massage puts you in a state of pure bliss. Extend your moment of relaxation in the Warming Room, where you can relax with a cup of hot tea by a cosy fireplace.
Family friendly
If you can coax your kids out of the Resort swimming pool, go on a day excursion to Bandelier National Monument to explore the cliff dwellings and ruins. You can even climb the ladders and go into the caves to explore. Fort Marcy Park has a great children's playground and picnic area. In the fall, enjoy the beautiful aspen trees at the Santa Fe Ski Basin, another lovely place for a picnic, hike (along the stunning Aspen-Vista Trail) or family bike ride.
Sight-seeing splendour
A guided Santa Fe walking tour is the best way to learn about the local sights and attractions. In a little under two hours, you can tour the streets of Santa Fe's historic city centre, learn about the rich, multicultural history, and see how locals live, work and play. Of course, nothing beats people watching from a park bench at the Santa Fe Plaza while enjoying a gooey, deliciously messy Frito pie from the Plaza Cafe.
For those who'd prefer to avoid crowds, a day trip to Abiquiú—also known as "O'Keeffe Country"—is ideal. This peaceful, scenic town is the former home of world-renowned painter Georgia O'Keeffe. You can enjoy a home-cooked meal at the Abiquiú Inn, take a tour of the Georgia O'Keeffe home and studio, visit nearby Ghost Ranch (another place where the artist lived), and see the Pedernal, the flat-topped mountain that O'Keeffe often painted.
Only in Santa Fe
The city is beautiful throughout the year, with excellent skiing during winter months and temperate, sunny summer months. Opera season is a highlight during the summer, along with other arts events that keep this vibrant city buzzing. One of the best times to visit is during the fall, when several notable festivals take place.
The Santa Fe Indian Market is a weekend celebration in mid-August that honours the Native American arts. In early September, the Santa Fe Fiesta commemorates important historic events in New Mexico. Also in September, the Santa Fe Wine & Chile Fiesta is a five-day event celebrating all of the fabulous food and wine the city has to offer.
A perfect day in Santa Fe
Start with breakfast at Café Pasqual's, a cosy downtown restaurant adorned with hand-painted Mexican tiles and local art. The menu offers an extensive assortment of local, organic and food-allergy friendly options. Afterwards, go for a hike at Tesuque Creek before stopping for a late lunch at The Shed. Spend the rest of your afternoon browsing the art galleries on Canyon Road. Finish off your day with dinner at Terra restaurant and, if you're in town during the summer months, a performance at the Santa Fe Opera.
Four Seasons Resort Rancho Encantado Santa Fe