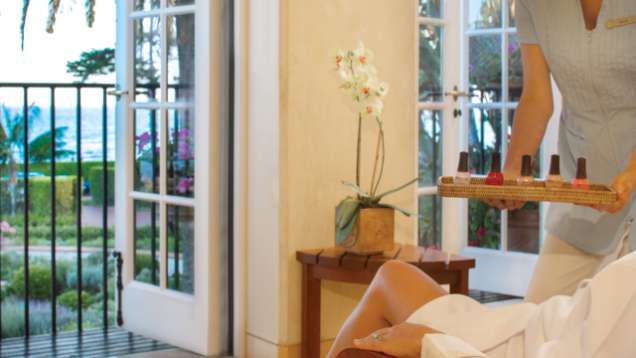 The Resort is delighted to feature nail treatments from SpaRitual. This luxurious, eco-conscious brand offers vegan and paraben-free products for hands, feet and nails. Energise or soothe sore muscles with organic ingredients, such as Indonesian ginger and eucalyptus. SpaRitual provides 100 DBP-free, formaldehyde-free and toluene-free lacquer shades to choose from, offering a natural alternative to conventional nailcare.
Shellac manicure
Shellac is the breakthrough, patent – pending UV³technology that combines the ease of polish with the permanence of gels. A true innovation in chip-free, extended-wear color. Shellac applies like a polish and is UV cured, so there is no dry-time. It provides strong natural nail protection for 14 days.
Spa manicure
Pamper your hands with a delicate exfoliation and deep moisturising. Includes basic nail shaping, revitalizing cuticle care, moisturizing and polishing.
Spa pedicure
This classic treatment starts with a soothing foot bath, a thorough exfoliation and a moisturizing treatment, and includes toenail shaping, cuticle care and polishing.
The Biltmore pedicure
Enjoy a relaxing foot soak while your nail technician massages your hands and arms. Feet are then exfoliated and wrapped in a hydrating mask for soothing protection. Finally, nails are treated to a polish of your choice.
Little hands
A mini manicure for little hands. Guests aged 12 and under will delight in a nail shaping, hand massage and nail polish.
Little feet
A pampering mini pedicure for little feet. Guests aged 12 and under will delight in a nail shaping, exfoliation, foot massage and nail polish.
Additional services
Shellac Removal
30 minutes – USD 30
Polish change
35 minutes – USD 30
French upgrade
USD 10
Hand paraffin
USD 25
Foot paraffin
USD 25
Note: Prices and treatments are subject to change without notice.