Bed and Breakfast
Enjoy a perfect night's sleep followed by an expertly prepared meal from our top-rated...
Meetings & Events
Conference Planning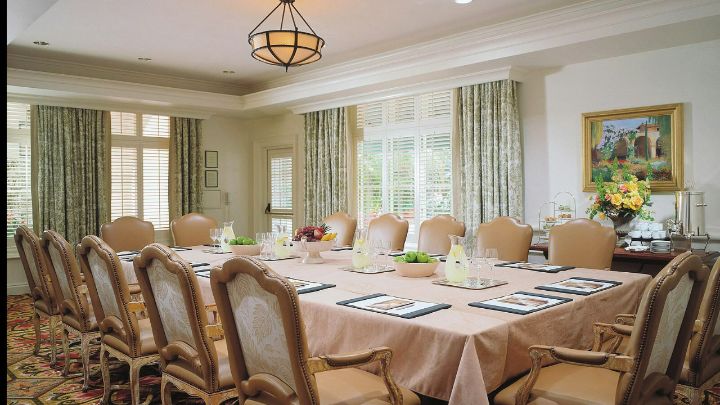 Technical assistance
Audiovisual services play an important role in the overall success of your event. Our partner, PSAV Presentation Services, maintains an office on property and offers the technical expertise and equipment necessary to flawlessly deliver a spectacular event. Their services include, but are not be limited to:


Experienced staff and professional technicians

3D designs and on-site renderings through SwankDraw

Event consultation and show supervision

LED, decorative and intelligent lighting

Superior sound systems

Video conferencing, webcasting and event archiving

Technical and creative set design

Computer data display

Projection specialists

Audio and video recording and duplicating
Learn more about PSAV Presentation Services
Music and entertainment
Our conference service managers will be happy to assist with setting up any type of music or entertainment for your meeting.
Receiving and maintenance
The Resort features a full-service shipping and receiving office. All packages should be sent to the attention of a group's name and its conference service manager. Limited space is available for storage of large items. Please time shipping to the dates of your arrival.
Receiving dock
Please contact your conference service manager for special arrangements upon delivery of oversized packages or environmentally sensitive equipment.
Post-conference shipping
Shipping of post-conference materials may be coordinated through your conference service manager.
Maintenance
The engineering department is available 24 hours a day for general assistance with lighting, room temperature control and minor repairs.
Destination management companies
Our conference service managers can help accommodate your group's special requests. For detailed information, please contact the Resort directly. In addition, we recommend the following destination management companies:
AlliedPRA Santa Barbara
1187 Coast Village Road, Suite #1-578
Santa Barbara, CA 93108
Telephone: 1 (805) 884-0600
Fax: 1 (805) 565-2979
Incentive Destination Productions (IDP)
1302 State Street, Suite 2A
Santa Barbara, CA 93101
Telephone: 1 (805) 564-8848
Fax: 1 (805) 564-8876
Welcome amenities and VIP gifts
Special arrangements can be made for clients to purchase welcome amenities for their VIP guests.
Spouse programs
The Resort offers a variety of activities that will interest the spouses of meeting participants, and conference services will provide detailed information on specially tailored programs.
Customized spa experience

Golf and tennis clinics

Chef demonstrations

Santa Barbara and Montecito tour

Santa Ynez Valley wine tour

Art Gallery and Museum tours

Garden Tours
Family programs
Four Seasons Resort The Biltmore Santa Barbara offers a perfect base for families visiting the area, and always extends an especially warm welcome to its young guests, beginning with a special gift upon arrival. Complimentary items and services include bottles and toiletries for infants, bedtime milk and cookies, kid-sized terry bathrobes, videos, board games and toys. The latest video games are supplied in all guest rooms. Children's menus are available in Bella Vista and through In-Room Dining. In addition, babysitting services and custom-designed children's parties may be arranged through the Concierge.
We offer over 15,000 square feet (1,393 square metres) of space, which is divided among two ballrooms and 12 function rooms for business meeting and social events.
Quick Reference
Time zone
GMT -8 hours
Pacific Standard Time

Language(s) spoken
English, Spanish
Electrical system
Local voltage is 110 to 120 volts AC. Adapters available; please request through the Concierge.

Shopping hours
Monday to Saturday:
10:00 am to 7:00 pm
Sunday:
11:00 am to 7:00 pm

Working hours
Working hours are generally 10:00 am to 7:00 pm.
The Resort office staff are available from 8:00 am to 6:00 pm.
The Resort restaurant opens at 7:00 am.