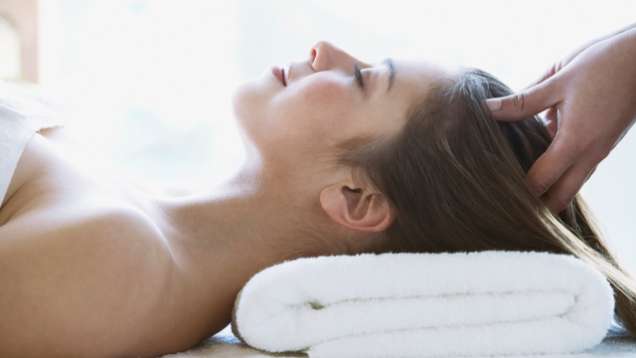 De-stress massage and body cocoon
This treatment begins with a soothing foot massage followed by gentle exfoliation. A rhythmic and deeply relaxing warm-oil massage helps remove stagnant energy and activate prana (life force), stimulating the body's vital energy. Finally, you will be enveloped in a de-stressing cocoon, while enjoying a soothing head and neck massage.
110 Minutes - 282 USD
110 Minutes
USD 282
Call 1 (415) 633-3000
Mother-to-be body treatment
This luxurious pre- and post-natal body treatment offers the ultimate indulgence for pregnant women and nursing mothers. This treatment adapts to address how you look and feel at different stages of pregnancy. It treats muscular aches and fluid retention, as well as stress and fatigue; it also helps to maintain skin tone and elasticity to prevent stretch marks, stimulates the senses and boosts energy levels. Note: This treatment is only performed for women past the first trimester of pregnancy. Deep work is not administered.
110 Minutes - 299 USD
110 Minutes
USD 299
Call 1 (415) 633-3000
Body detoxification
This treatment focuses on foot reflex points to purify the body. A deep-cleansing full-body exfoliation and stimulating massage are followed by an application of marine algae to stimulate circulation, eliminate toxins and improve energy levels. Finally, a forehead and scalp massage soothes and calms the mind.
110 Minutes - 282 USD
110 Minutes
USD 282
Call 1 (415) 633-3000
Signature facial
This aromatherapy facial is designed to cleanse, hydrate, nourish and repair. This classic treatment revitalises the skin and soothes away stress while inspiring a radiant, younger-looking complexion. Suitable for all skin types.
50 Minutes - 123 USD
80 Minutes - 166 USD
50 - 80 Minutes
USD 123 - 166
Call 1 (415) 633-3000
Total relaxation programme
This head-to-toe holistic treatment begins with a foot treatment, a de-stressing facial and a conditioning full-body exfoliation. Sounds, coloured gemstones and plant essences are used to help soothe the mind and restore energy. Each chakra (energy centre) is anointed, and the body is massaged with essential oils reputed to bring body and mind into balance. The body is then cocooned in the restorative embrace of a warm rose and lavender wrap, and a massage of tense areas on the forehead and scalp is performed. Includes:

Full-body scrub
De-stressing facial
Inner journey massage
Rose body wrap
Spa lunch
4¾ Hours - 542 USD
4¾

Hours

USD 542

Call 1 (415) 633-3000