Function Rooms
Veranda Pre-Function A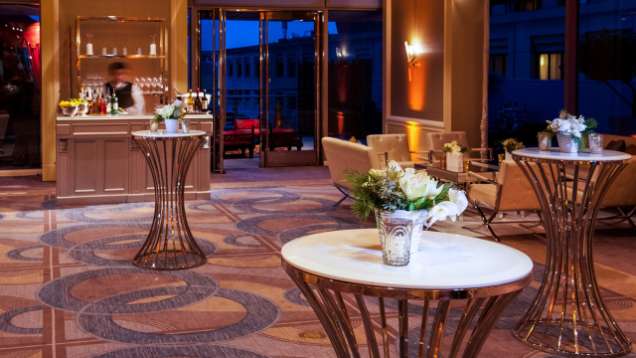 This spacious pre-function space features the same contemporary décor and modern design elements as the Veranda Ballroom which it services.
Why You'll Love It
Inviting Atmosphere
Contemporary décor delight with modern design elements
Rich fabrics welcome with warm tones
Reproduction pieces spark conversation
Aglow with Elegance
Art deco Venetian sconces and table lamps spread light around
Recessed lighting adds an elegant source of light from above
Flexible and Accommodating
Ideal for breaks and mingling
One of two pre-function spaces servicing one-half of the Veranda Ballroom, which may be divided for more intimate events
Room Details
Seating
Classroom
Reception
Banquet rounds
Conference/Boardroom
Theatre
U-shape
Hollow Square

45
75
60
20
50
26
30

Occupancy
Up to 75 guests
Room Features
Wired and wireless Internet access available.

Location
On the lobby level of the Hotel, facing south towards Yerba Buena Gardens.
Size
Area
Dimensions
Height

84 m2 (900 sq.ft.)
7 x 13 m (22 x 42 ft.)
4.1 m (13.6 ft.)

Bathrooms
Accessible
Note: Height shown is actual clearance height.