Chef Bio
Mark Richardson, Executive Chef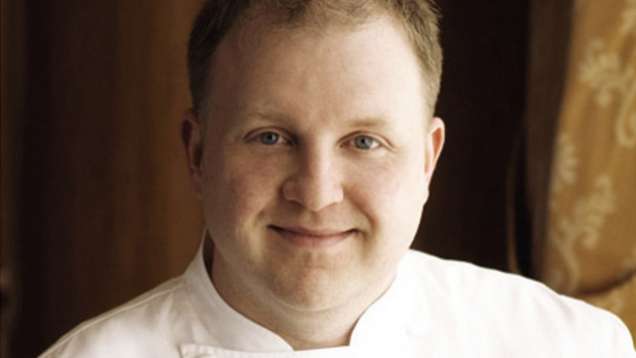 Four Seasons Tenure: Since 1998 – First Four Seasons Assignment: Chef de Partie, Four Seasons Hotel Chicago
Employment History: Four Seasons Hotel Boston; Four Seasons Hotel Silicon Valley at East Palo Alto; Four Seasons Resort Scottsdale at Troon North; Four Seasons Hotel Chicago; Emmett's Lexington, Kentucky; Disneyland Resort, Paris
Birthplace: Pikeville, Kentucky
Education: Attended University of Kentucky and Pennsylvania Institute of Culinary Arts
Languages Spoken: English

"During my senior year of college, I thought, 'What can I do with my life that isn't like work?' Twelve years later, here I am."
To this day, I can't do sweet potatoes like my grandmother did them," says Mark Richardson, executive chef of Four Seasons Hotel San Francisco. Thankfully, other menu items that have taken on his Southern charm are perfected in a way that would make any grandmother proud.

Richardson has been interested in food since his childhood in the mountains of eastern Kentucky, where he poked around in the kitchen with his mom and grandma and watched football over heaping plates of meatloaf. During his senior year of college, his culinary interests got the better of him, so he left the University of Kentucky and enrolled in culinary school in Pittsburgh.

Twelve years and many sous chef jobs later, Richardson has settled in nicely as the executive chef at Seasons Restaurant at Four Seasons Hotel San Francisco. Paying homage to readily available fresh California ingredients, the menu at Seasons highlights a selection of prime California cuts of meat locally sourced from top ranchers and accompanied by freshly picked and organic produce of the highest quality. "The inspiration behind the menu is a testament to our creativity and collaborative experiments in the kitchen," says Richardson.

With his main course dishes reflecting traditional and local American fare, premium meats such as All-Natural Dry-Aged Rib Eye from Brandt Farms, or Grass-Fed Filet from Hearst Ranch, Richardson creates a variety of inventive sauces and playful interpretations on classic steakhouse dishes. His side dishes pay tribute to Southern comfort food presented in fanciful manner, like his take on traditional mac and cheese with Black Truffle, Parmesan & Hazelnut Späetzl; and Corn, Jalapeno & Pancetta "Spoon Bread," a new approach to the classic creamed corn.

These days, Richardson's focus is on proper technique, seasoning and care of provisions, especially the phenomenal produce of California. "I find it better not to do too much with each element, but rather to let flavours marry in harmony on the plate."