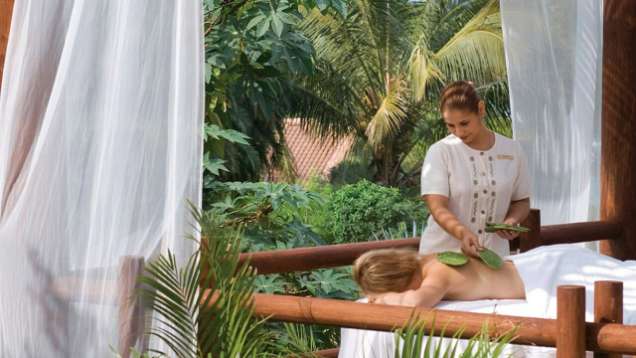 Signature Massages
HAKALI SIGNATURE MASSAGE
Our Hakali massage is a relaxing experience, utilizing a combination of various indigenous flora, sage and tequila body lotion and local massage techniques. Nopal or Hakali, as named by the local Huichol Indians, is the main ingredient used in the massage, and it is well known for its many antioxidant healing properties. This massage in combination with the warm Nopal, will help to remove toxins and re-hydrate the skin, leaving you feeling completely rejuvenated and calm.
PUNTA MITA MASSAGE
One of the best all-over relaxing massages. This special technique uses firm pressure with the forearm and hands, the application of tequila and indigenous sage oil in combination with traditional Mexican healing techniques.
LLUVIA DE MIEL SIGNATURE MASSAGE
This exquisitely scented treatment features Mexican vanilla and honey in a delightful experience that will leave your skin silky, hydrated and deliciously perfumed. Vanilla is a natural source of antioxidants and B vitamins, key nutrients for healthy skin. Here in Mexico, it also plays a role in ancient folklore, specifically that of the Totonaca Indians, south of the country.
The experience starts with a relaxing massage and a drizzle of a special balsam incorporating vanilla and honey. A warm shower follows, activating the circulatory system and releasing tension with the perfect amount of pressure. The treatment is completed with the application of moisturizing vanilla cream. Your skin will simply glow!
AROMATHERAPY FROM OUR GARDEN
A soothing calming massage using the aromatherapy benefits in conjunction with the healing properties of native herbs, applied in warm compresses. This treatment was created to stimulate, balance and relax the mind and body.
Massages
CUSTOMIZED MASSAGE
What our bodies require in order to relax and repair changes frequently. This 100% customizable massage is specifically modified each and every time to meet your changing needs. With pressure ranging from light to firm and a variety of massage techniques and essential oil blends, we've got you covered.
REFLEXOLOGY
A pressure point massage of the feet, designed to improve circulation, release stress and relax the entire body.
THAI MASSAGE
The Thai Massage is a traditional eastern treatment that focuses on stretching all your body. Some people refer to this massage as "Assisted Yoga" as you improve your flexibility achieving a total body relaxation. The Thai Massage is delivered on the floor, using a special cushion. Comfortable clothing is suggested.
APUANE STONE THERAPY
A therapeutic hot stone massage incorporating cold stones and a Chakra balancing. Provides balance and equilibrium to all the systems of the body.
LYMPATHYC DRAINAGE
It is a gentle and therapeutic massage applying a soft pumping technique. Ideal for releasing retained water and toxins, helping in cellulite reduction.
MOTHER TO BE MASSAGE
A therapeutic and deeply relaxing massage targeting the legs, feet, lower back, neck and shoulders. You will want to return for another! * Massages in the first trimester are not recommended*
Note: Prices and treatments are subject to change without notice. Prices already include 10% service charge and 16% Mexican tax.