Spa
Massages
From classic Swedish to the Czech-inspired La Boheme, your body and mind will feel the rejuvenating effects of our luxurious treatments.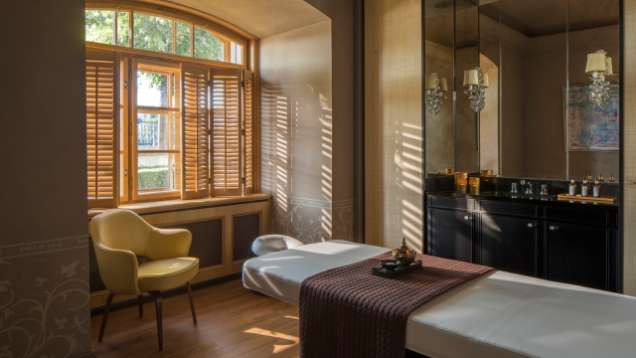 La Boheme
Enjoy yourself and relax with this head to toe massage. Inspired by Czech national tree, this treatment uses detoxifying and regenerating linden blossom oil as part of a soft massage, decreasing cold symptoms and encouraging healthy sleep.
Deep Tissue Massage
The deep tissue massage is tailor-made to target specific areas of muscle tension and soreness. The strong, deep technique promotes better circulation and improves relaxation and mobility in the body.
Swedish Massage
The Swedish massage is designed to ease away tension and relieve stress. It involves kneading and long strokes. Different types of pressure may be applied: light, moderate or firm.
Aromatherapy Massage
Combining the healing power of touch with Sodashi's unique techniques. The synergy of Sodashi's natural plant oils and aromatic plant essences will nourish your skin and aid the relief of emotional and physical tension. You may choose from an exquisite selection of aromatherapy oils, specially created to individually suit all needs.
Hot Stones Massage
With this warming and relaxing Basalt Hot Stones massage, you will feel the tension melt away as smooth, heated stones work their magic on key points of your body.
Tailor-Made Massage
The benefits of a massage are well known. This treatment will allow you to enjoy a customised massage that will be focused on your main areas of concern. You can choose between a head, back, feet or leg massage.
Rules for treatments: Should you wish to cancel or reschedule your treatment, please inform us at least four hours prior to the appointment time in order to avoid a 100% cancellation fee. In-room treatments are available upon request. They carry an additional charge of 20% per treatment. We kindly request that you arrive 30 minutes prior to your appointment in order to enjoy our facilities,including our vitality pool, steam room, sauna and relaxation lounge. Note: Out-of-hours treatments can be arranged upon request and are subject to additional fees. Surcharge will apply for treatments after 9 pm.