Dining
Executive Chef LUCA DE ASTIS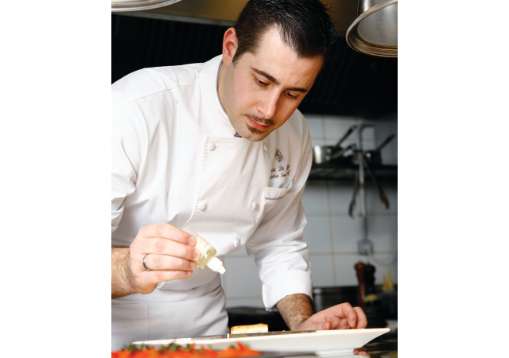 "The key for chefs is communicating to the kitchen team what you love. If the food is created in a good kitchen, people will love it."

Four Seasons Tenure: Since 2011
First Four Seasons Assignment: Four Seasons Hotel Istanbul at the Bosphorus, Executive Sous Chef of Aqua
Employment History: Four Seasons Hotel Istanbul at the Bosphorus; Inedit Catering, Barcelona; Restaurants Enoteca and Bites, Hotel Arts Ritz Carlton, Barcelona; Restaurant L'Indret de Semon, Barcelona; Restaurant Caelis, Hotel Palace, Barcelona; Restaurant Alain Ducasse au Plaza Athénée, Hotel Plaza Athénée, Paris; Restaurant Lasserre, Paris; Restaurant Villa Fiordaliso, Bardone Riviera, Italy
Internships: Four Seasons Hotel George V, Paris; Four Seasons Hotel des Bergues Geneva; Four Seasons Hotel Cairo; Four Seasons Hotel Gresham Palace Budapest, Four Seasons Hotel Buenos Aires
Birthplace: Milan, Italy
Education: Hotel Management Diploma and Kitchen Management Diploma, Institute Amerigo Vespucci, Milan
Languages Spoken: Italian, English, French, Spanish, Catalan


"I think Prague is my destiny. I actually signed the contract to join Four Seasons in this city before starting the job in Istanbul," says Luca De Astis of the career decision that started his Four Seasons journey, which is continuing at CottoCrudo, where he has led the team since October 2014.

"CottoCrudo is a young and dynamic place where we are focusing on a quality product aiming for authentic Italian excellence. Our menu reflects the seasons and Italian traditions, and also shows the evolution of cuisine today," he says. "The crudo part of the restaurant is unique to Prague. Fresh raw fish and seafood are seasoned based on my personal experiences in France, Spain and Turkey, but still in keeping with the Italian identity."

"I get excited by fresh products made by small suppliers but done with a great care. Then I have to treat the ingredients the same way to respect all the work and get best out of it and present them to our guests in beautiful dishes," Luca emphasizes.

Born and raised in Milan, Luca recalls being inspired to pursue a culinary career while watching television. "My father and I were watching a program about a hotel chef. He asked me if I'd like to be a cook and I said, 'Yeah, why not?'" Hardly a lightening-strike moment, but he quickly got excited. "I chose cooking because I like food, and I've always been curious regarding the possibilities of taste through preparation."

Before Istanbul and Prague, Luca spent most of his career in France and Spain, mainly at Michelin-starred addresses – including a three-star in Paris. He really hit his stride in Barcelona where he practiced avant-garde culinary techniques and even ran a small catering operation, enhancing his management skills. "I like my job because this profession is constantly moving; everyday there is something new."