Destination
holiday itinerary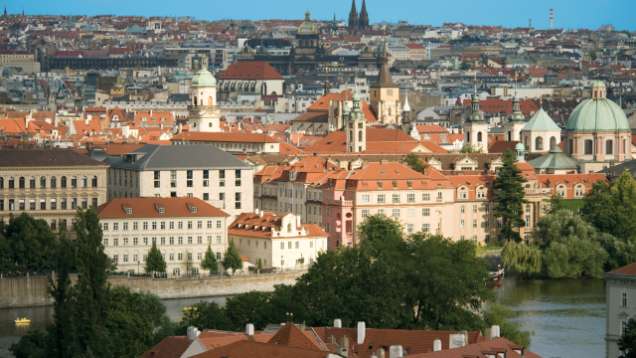 Arrival
Welcome to Four Seasons Hotel Prague. After you settle into your luxurious guest room or suite, ask our Concierge to recommend an excellent place for lunch, or relax with a casual meal at the Hotel.
Day 1
Day
Explore the city by day, then return to the Hotel for an evening of dinner and dancing.

Afternoon

Take an Old Town walking tour to see the charming houses of Old Town Square, the astronomical clock on Old Town Hall, the Estates Theatre and Wenceslas Square.




Evening
Enjoy a welcome reception and dinner at the Hotel, with tempting food stations, an open bar and lively entertainment in the form of a local jazz or Dixie band.

Day 2
Tour stunning Prague Castle, then delight in a Medieval/Renaissance theme party.


Day

At Prague Castle, see Strahov Monastery, the impressive St. Vitus Cathedral, Old Royal Palace and Prague's famous Golden Lane, with its picturesque little houses.




Evening
Journey back in time with a Medieval/Renaissance theme party at St. Agnes Convent.

The evening includes food stations featuring Czech specialties and medieval drinks, and traditional entertainment such as artists, jugglers, knights, fire-eaters, singing monks, medieval bands, dance performances and a medieval market.


Day 3
Choose a destination for a full-day tour, then party at a palace.

Day
Enjoy breakfast in an elegant private dining room, then spend the morning exploring Prague's unique attractions.


Options for full-day tours include Karlovy Vary, Dresden (Germany), Orlik, Ceske Budejovice, Cesky Krumlov, Plzen, Telc, Kutna Hora, Karlstejn, Konopiste castles and more.

Some tours can be operated from a private train.





Evening

At Zofin Palace, enjoy a reception with an open bar and hot and cold hors d'oeuvres before a buffet dinner and drinks are served.

The evening's entertainment includes a modern dance band.
Day 4
Take your pick of numerous walking and coach tours, then experience the local cuisine with a "dine around" experience.

Day
Walking and coach tour options include Jewish Quarter, Art Nouveau, Mozart, Communism Museum, Churches, 10 Centuries of Architecture, In the Footsteps of Franz Kafka, Lobkowicz Palace and many more

Evening
The evening starts with a cocktail reception at the Hotel. Whet your appetite with an open bar and hot and cold hors d'oeuvres

For dinner, you'll experience a "dine around" evening spent sampling local cuisine at various locations, fully assisted by staff and drivers.
Day 5
Morning
Choose your preferred cultural experience, then end your stay on a high note with a gala dinner.

Day
Choose from photography classes, cooking lessons, painting sessions, an opportunity to meet local artists or learn about Czech fashion and more.

Evening
Your memorable last night in Prague will include a Classical Taste and History reception and deluxe gala dinner with drinks at Obecni Dum (Municipal House) or Prague Castle.

Guards and trumpeters can greet guests upon arrival before a master of ceremonies conducts the evening's festivities, an orchestra provides background music during cocktails and dinner, Little Mozart entertains on the piano, and opera singers and a waltz performance provide even more to talk about.
day 6 - departure
Enjoy a group breakfast at the Hotel for an opportunity to chat about the previous night's events before your departure.