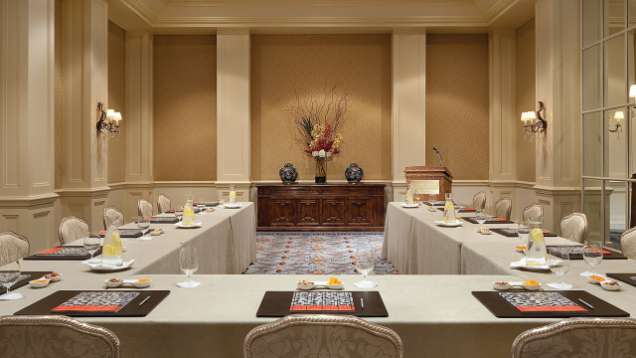 Enjoy a wide array of services and amenities included in every meeting – with no added charges.
A Five-Star, Five-Diamond Setting
An exclusive oceanfront meeting place, Four Seasons offers relaxed Palm Beach elegance, flawless service and the versatility of 22 function rooms.
conference level one
Royal Poinciana Ballroom I, II, III

All the elegance of the Ballroom in a more intimate setting for up to 200 guests.
Royal Poinciana Foyer

Enter the Royal Poinciana Ballroom through this welcoming foyer with floor-to-ceiling windows.
Banyan Room

An intimate setting enlivened with moiré fabric wall coverings and oriental art.
conference level two
Flagler Ballroom

Our second ballroom impresses with ornate décor that includes arched mirrors.
Flagler Ballroom I, II, III

Each of these three Ballroom partitions is ideal for receptions of up to 200 and banquets of up to 140.
Flagler Salon A – F

Host a theatre-style reception for 200 guests or a wedding banquet for 140 in one of these salons.
Phipps Room

With its welcoming, residential feel, this room is ideal for both executive and rehearsal dinners.
Executive Boardroom

A natural setting for business and social gatherings, this room features large windows overlooking South Palm Beach.
Seagrape

Intimate and welcoming, the Seagrape Room has an inviting residential atmosphere and is ideal for use as a breakout room or a business meeting.