Get a taste of movie-making magic through our Red Carpet Kids Hollywood Premiere Family Fun package. That's right – the entire family gets to star in their very own short film, complete with costumes, red-carpet press interviews and a premiere screening.

The fun begins when you, our VIP guests (up to five per family), head to a private mansion on the Upper East Side (home to our partner, Red Carpet Kids). There, they walk the red carpet, field questions from the "press" and pose for pictures. Next up is hair, make-up and costumes, then the real action begins as the pint-size actors meet the crew, learn their lines and act out their scenes in front of a green screen so their work can be edited into a film.

After a three-course lunch or dinner, families can view their masterpiece in the comfort of the on-site movie theatre. Get ready for plenty of laughs and applause! Back at the Hotel, receive an assortment of movie-related treats and a keepsake DVD copy of the movie. As part of the weekend package, kick back like celebrities and enjoy one night's accommodation in a luxurious guest room. Families who need more space can book a second room at our best available rate.

Make Your Red Carpet Dreams Come True
To learn more or reserve your own once-in-a-lifetime red carpet experience, call +1 (800) 487-3769.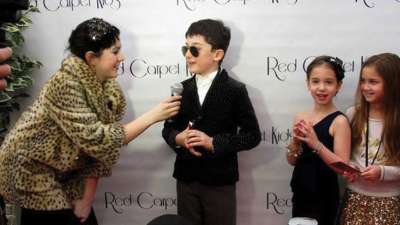 Related Links
Learn more about the Red Carpet Kids experience with these reviews from our favourite family bloggers.