The fashionable Midtown East location of Four Seasons Hotel New York places guests at the heart of New York's best entertainment, cuisine and culture. From here, it's possible to enjoy the Big Apple during any season entirely on foot—proving that location is indeed everything.

15 West 56th Street; Telephone: 1 347/577-9504
Part of David Chang's Momofuku empire, this hipster dessert bar is the home of Pastry Chef Christina Tosi's eclectic sweets. Cereal milk soft-serve ice cream, made decadent by corn flake–soaked milk, is the signature dessert to try in store. More easily transportable items—birthday cake truffles, compost cookies (featuring potato chips, pretzels and coffee grounds) and a slice of crack pie—may just survive the journey back to the Hotel, if temptation doesn't strike.
33 East 61st Street; Telephone: 1 212/702-9898
At this hip bar, you'll spot baby strollers parked outside by day, a buzzing social scene after work and couples cosying over candlelight by night—a testament to the versatility of this popular, upscale-casual Northern Italian restaurant. It's located just off of Madison Avenue, so stop after shopping to taste thin-crust pizza cooked to order in a wood fire oven, or sample from a long list of salads, grilled meats and homemade pastas.
Madison and Fifth Avenues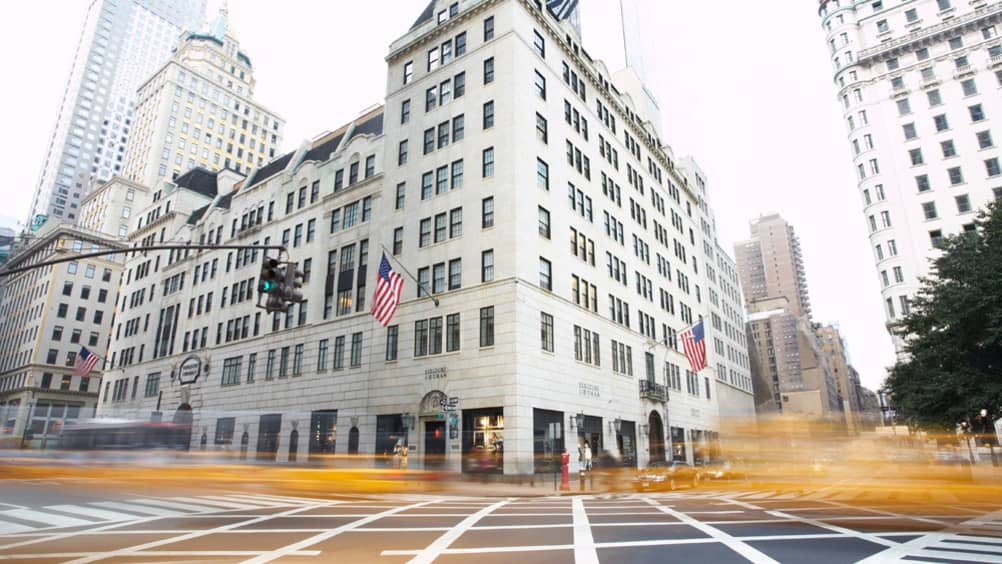 Photography courtesy Bergdorf Goodman
Flagship stores and haute couture await on these two luxury brand–lined streets located just steps from the Hotel. Browse Bergdorf Goodman, Barneys New York, Saks Fifth Avenue, Tiffany & Co., Harry Winston and Ralph Lauren, among others. And with American Girl Place and the world's largest Build-A-Bear store, the kids aren't left out of retail heaven.
18 East 69th Street; Telephone: 1 212/288-1338
Trendsetting locals with keen eyes for fashion source daring yet exquisite shoes, clothes, accessories and home decor from Fivestory, a luxury boutique inside an Upper East Side townhouse. Carefully curated by the store's young proprietor, pieces hail mostly from independent labels, with a few familiar names such as Alexander Wang and Comme des Garçons also on offer.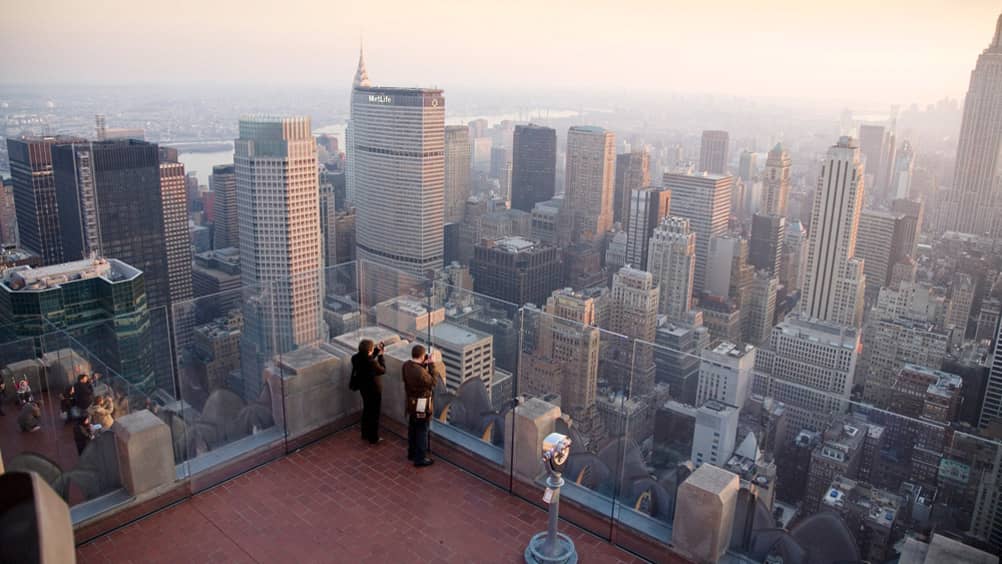 Photography courtesy Tishman Speyer
45 Rockefeller Plaza; Telephone: 1 212/588-8601
Learn about Rockefeller Center's rich history during daily tours with expert historians who walk guests through John D. Rockefeller's quest to build a "city within a city." Those who prefer to explore on their own can journey to the Top of the Rock observation deck for panoramic views, go behind the scenes at NBC Studios or study the collection of art deco sculptures scattered around the property. Visitors can also enjoy a show at the famed Radio City Music Hall, browse more than 100 stores or dine at one of the many restaurants in this vast centre.
Photography Dan Callister / Alamy Stock Photo
East 59th and 5th
A two-block walk to the southeast end of Central Park won't be for naught: Jogging trails, rowboat rentals, winter ice skating, free concerts, a carousel, bicycling and carriage rides await. The Central Park Zoo, with its popular sea lion enclosure and Tisch Children's Zoo, is located on the southeast end of the park. The American Museum of Natural History and the Met are further afield but still walkable, especially when you break for lunch in the heart of the park at The Loeb Boathouse restaurant, which overlooks a beautiful lake.
881 7th Avenue; Telephone: 1 212/903-9600
Since opening in 1891, the prestigious concert hall has become a pinnacle of musical achievement for the gifted performers and public figures that grace its stages. Concerts showcase classical, jazz, folk, world and popular music, while daily tours of the facility are also available during the Hall's October through June season.
Viand
673 Madison Ave; Telephone: 1 212/751-6622
This busy café across from Barneys New York boasts legendary turkey sandwiches roasted in-house. Narrow, two-person booths seat a diverse clientele that enjoys burgers, omelets and other American classics served with lightning speed.
Photography Timothy Hursley
11 West 53rd Street; Telephone: 1 212/708-9400
More than 100,000 paintings, sculptures, drawings, prints, photographs, architectural models and other creative works convey the history of modern and contemporary art in a spectacular glass architectural setting that was redesigned by Yoshio Taniguchi. Most of MoMA's extensive list of masterpieces are on the upper floors, so consider touring from the top down to see pieces including Vincent van Gough's Starry Night,Pablo Picasso's Les Demoiselles d'Avignonand Cézanne's The Bather.Advance tickets are recommended.
West 47th and Broadway
When considering what to do in Times Square—one of the world's most-visited tourist attractions—marvelling at the giant, illuminated billboards and enjoying popular Broadway shows top most visitors' lists. The commercial intersection and site of the famous New Year's Eve ball drop is about a mile from the Hotel, and you'll pass a number of shops, restaurants and attractions along the way.
Four Seasons Hotel New York