SPA
Ayurveda-Inspired Treatments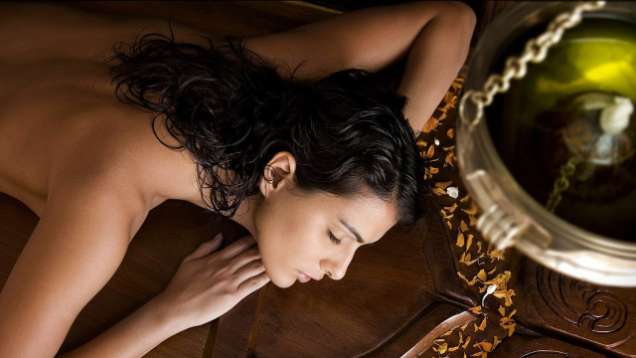 Based on 5,000 years of knowledge, ayurveda truly is "the science of life." This ancient practice begins by identifying the dosha, or energy force, that determines an individual's constitution: vata, pitta, kapha or a combination of the three. Personalized therapies based on a person's dosha enhance natural beauty and well-being, bringing balance to body, mind and spirit.

Discover the healing secrets of this Indian legacy through our ayurvedic selections. All ayurvedic treatments begin with a herbal foot bath and conclude with a steam bath, which aids the detoxification process.

Shirodhara
Two therapists simultaneously perform a relaxing full-body massage. Warm, herb-infused ayurvedic oil gently trickles down over your forehead in a steady stream, resulting in a sense of inner peace and tranquillity.
90 Minutes - 9,000 INR
90 Minutes
INR 9,000
Call 91 (22) 2481-8005
Pada mardhana
This intensive foot massage is designed to improve blood circulation and reduce swelling and soreness in the lower legs.
60 Minutes - 5,500 INR
60 Minutes
INR 5,500
Call 91 (22) 2481-8005
Uzhichil
An ancient massage technique that uses warm herbal oil with a combination of invigorating and soothing strokes, this treatment helps relieve muscle tension, encourages sound sleep and ensures silky soft and toned skin.
60 Minutes - 5,500 INR
60 Minutes
INR 5,500
Call 91 (22) 2481-8005
Shiro Mardhana
This Indian head massage addresses stress and tension in the head, neck and shoulders using a medicated oil that nourishes the scalp and promotes hair growth.
30 Minutes - 3,000 INR
30 Minutes
INR 3,000
Call 91 (22) 2481-8005
Note: Prices and treatments are subject to change without notice. Prices are quoted in INR and are subject to a 7% service charge and a government tax of 12.36%.