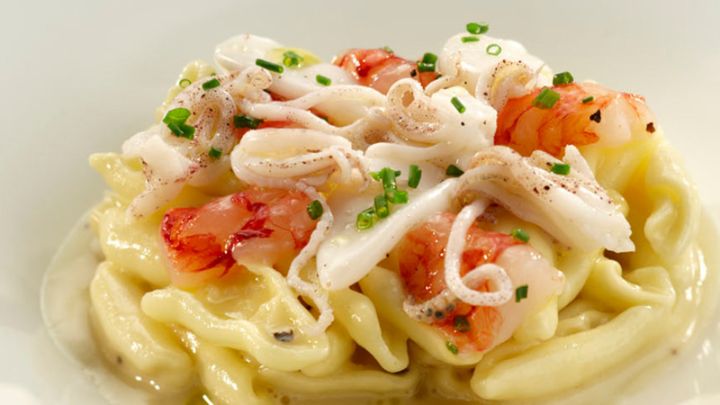 Savour Moscow's most fashionable five-star dining experiences, bringing together a dynamic mix of international Four Seasons guests and the city's social elite. From authentic Italian cuisine to regional specialties, the five restaurants and bars at Four Seasons Hotel Moscow cater to every taste and every occasion. Friendly, attentive service anticipates your every request.
Quadrum
Specializing in authentic Italian cuisine and fine wines, this signature restaurant offers second-floor corner views of Manezhnaya Square. The design is elegant yet modern.
BYSTRO
A lively destination on the second floor, this casual all-day restaurant focuses on a daily breakfast buffet and business lunches with fast, friendly service. The bistro-inspired menu features a mix of international cuisine and local specialties.
Moskovsky Bar
Destined to be one of Moscow's most fashionable bars, this dramatic red and black room boasts a bold, glamorous style. The specialty is champagne with a menu enhanced by a sushi and crudo bar.
SILK LOUNGE
In dramatic two-storey spaces on either side of the lobby's entrance hall, this luxurious introduction to Four Seasons offers classical décor and large fireplaces. Combining a lobby lounge and tea lounge, this is the perfect place for casual meetings with afternoon tea, desserts, wine and signature cocktails.
POOLSIDE CAFÉ
Located on the fifth floor, beside the lap pool and just steps from the Spa, this intimate 20-seat venue specializes in fresh juices and light cuisine. Beneath a glass roof, it's a warm oasis that's ideal for spa lunches, exclusively for hotel guests and fitness-club members.
IN-ROOM DINING
Four Seasons brings an exceptional Moscow dining experience to your luxury guest room or suite. Choose from an extensive menu – day or night – with options that are ideal for time-zone-hopping travellers, impromptu business meetings or romantic private dining.