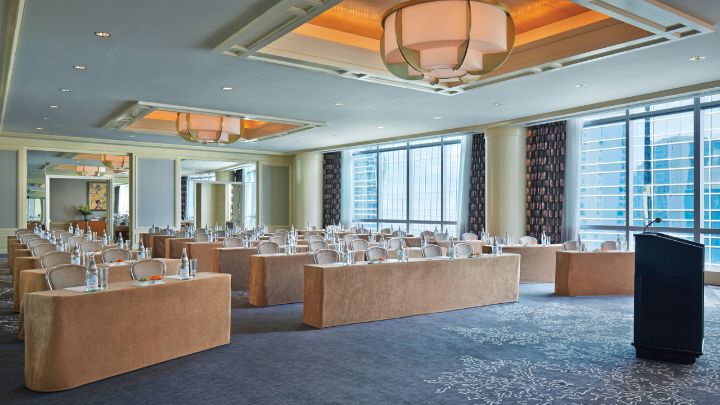 This versatile room has floor-to-ceiling windows to complement any wedding reception and enhance the look of all meetings
Elegantly Versatile
Host a corporate reception for a crowd of 230 guests, or invite 120 of your closest friends and family to a memorable wedding.
Perfect and Sound
Enjoy 24-hour support from the Hotel's audiovisual team, along with advanced lighting and staging capabilities.
Perfect and Sound
Your international guests will appreciate multilingual support provided by our experienced event planners and concierge staff.
Seating
Classroom
Hollow Square
U-shape
Theatre
Reception
Banquet rounds
Classroom with rear screen
Banquet with rear screen

120
72
54
216
230
180
96
150

Location
SIXTH FLOOR
Size
Area
Dimensions
Height

232 m2 (2500 sq.ft.)
20.7 x 11.3 m (68 x 37 ft.)
3.7 m (12 ft.)

Height shown is actual clearance height.