Function Rooms
Ballroom West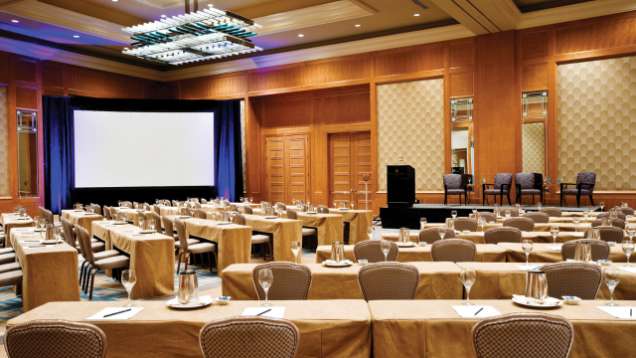 Set the stage for the perfect event: The Ballroom West grants you the latest audiovisual technology and services, and high-speed Internet access.
Why You'll Love It
Eye-pleasing in Every Way
An elegant space with a pillar-free design: enjoy unobstructed views from anywhere in the room.
Grandly Intimate
Enjoy the magnificence of the Grand Ballroom for a reception of up to 250 colleagues or a sophisticated wedding with 170 guests.
A Sophisticated Set-up
Advanced lighting and staging capabilities give flair to any audiovisual presentation or wedding band.
Room Details
Seating
Classroom
Hollow Square
U-shape
Theatre
Reception
Banquet rounds
Classroom with rear screen
Banquet with rear screen

108
72
54
264
250
170
108
140

Occupancy
Up to 250 guest
Room Features
Pre-function space and wired or wireless Internet access available.

Location
Sixth floor
Size
Area
Dimensions
Height

271 m2 (2,915 sq.ft.)
14 x 19 m (47 x 62 ft.)
6 m (19 ft.)

Actual clearance height is 17 feet (5.2 metres).