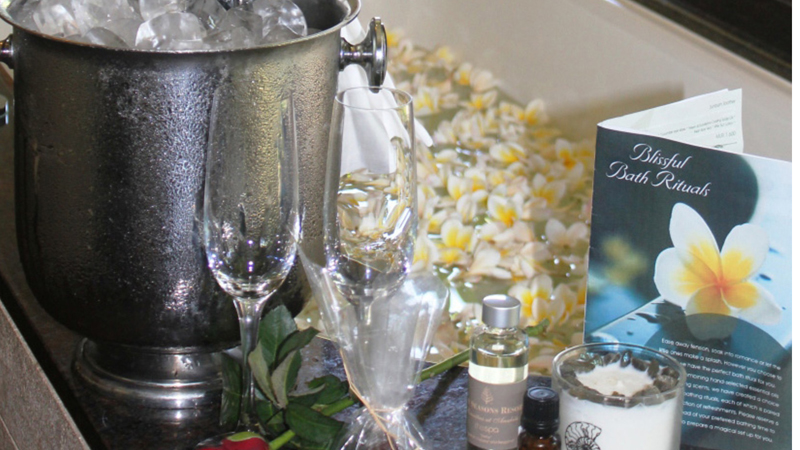 Ease away tension, soak into romance or let the little ones make a splash with our choice of hand-drawn bath rituals.

Mauritian Zen
Inspired by the secrets, sounds, and naturally-sourced ingredients of the island of Mauritius.
Brown Sugar Scrub
Mauritian Zen Bath Gel & Body Lotion
Coco Yiang Yiang Body Oil
Vanilla Candle
Served with Lemongrass Frappé and Coconut Delights.

MUR 4,800

Africology Signature Soak
Chemical free
A deep-cleansing, rejuvenating and aromatic bath full of 100% natural essential oils with Africology's proprietary blend of Marula, African Potato, Roolbos, and Aloe Vera.
Africology Bath Soak
Body Scrub
Neroli Natural Spring Water Mist
Anti-Oxidant Face Mask
Signature Candle
Served with Iced Rooibos and Frozen Amarula and Berry Jellies.
MUR 7,800

Ayurvedic Bath Ritual by Sundari
Sundari brings the age old ancient wisdom of Ayurveda to modern skincare. Enjoy the natural benefits of the Neem leaf, well known in India as "the pharmacy tree."
Sundari Neem & Manuka Body Cleanser
Neem & Date Seed Body Exfoliator
Neem & Burdock Cream
Gel Facial Cleanser
Signature Candle
Neem & Green Tea Face Mask
Neem & Coconut Hair Oil
Served with Sundari Herbal Tea and Indian Sweets.
MUR 6,100

The Art of Seduction
An unforgettably sensual celebration of love.
Frangipani Flower Bath & Bouquet of Roses
Aphrodisiac Essential Oil Blend
Rose Aromatherapy Candle
Sensual Massage Oil
Served with Champagne and white, milk and dark chocolate-dipped strawberries.
MUR 13,200 (Please reserve 24 hours in advance)

Love is In the Air
Skip dessert and surprise your loved one with a romantic, candle-lit couple's bath after dinner.
Frangipani Flower Bath
Aphrodisiac Essential Oil Blend
Vanilla Candle
Served with Chocolate Truffles and Sparkling Wine.
MUR 5,100 (Please reserve 24 hours in advance)

Creamy Chamomile & Coconut Milk Bath
This rich, nourishing and soothing bath will leave your skin feeling silky smooth. There is no better place than an island to indulge in the natural healing qualities of coconuts.
Chamomile Milk Bath
Coconut Scrub
Chamomile Eye Oil
Coconut & Frangipani Candle
Organic Virgin Coconut Oil
Served with Fresh Coconut Drink and Coconut Macaroons
MUR 8,800

Sunburn Soother
The ideal rememdy for red, over-exposed skin, concocted with highly moisturizing, calming and cooling ingredients.

Chamomile and Lavendar Essential Oils
Cucumber Eye Slices
Neem & Eucalyptus Cooling Scalp Oil
Fresh Aloe Vera
After Sun Repair Gel
Neem & Avocado Moisturizer
Served with Aloe Kiwi Drink and Vegetable Crudités and Low Fat Dip.

MUR 7,800

Golfer's sport restorative
Designed to relax aching, tense muscles, stimulate the mind and rejuventae the body.
Salt Scrub
Muscle Relaxant Bath Oil
Energy Charge
Neem & Green Tea Cleansing Face Mask
Served with Trio of Gaspachos and Taro Root, Cassava and Banana Chips.
MUR 4,000

Gentleman's Hour
With the numerous medicinal benefits of Neem and Tea Tree Oil, this bath is deep-cleansing and naturally healing.
Tea Tree Essential Oil
Salt Scrub
Eucalyptus Candle
Neem & eucalyptus Sooling Scalp Oil
Served with 1/2 bottle of Wine (Red, White or Rosé) and an assortment of Canapés.
MUR 7.500

Sweet Dreams
Melt into a warm aromatherapy lavendar bath and drift into sweet dreams with a selection of calming, sleep inducing products that will gently lull you into a peaceful night's slumber.
Lavendar Essential Oil
Chamomile Shea Butter
Sleep Gel
Sleep Well Neroli Spritzer
Lavendar Candle
Served with Chamomile Tea and Biscuits.
MUR 5,200

Make A Wish Bubblegum Bath for Kids
This bath makes wishes come true! But the sparkling fairy dust only works if you fall asleep right after your bath!
Bubble Gum Bubble Bath
Make A Wish Sparkling Fairy Dust
Bath Toys
Africology Kiddie Bath Kit
Served with Fruit Smoothie and Jelly Beans.
MUR 6,000

Chocolate Milk & Cookies Bath for Kids by Africology
Chemical free
Dessert and Bath time united! Bathing never tasted so delicious!
Chocolate Bath Soak
Chocolate Scrub
Bath Toys
Africology Kiddie Bath Kit
Served with Cookies, Chocolate Milk, and Marshmallows.
MUR 6,200

Note: Treatments are subject to change without notice. Please reserve minimum of 6 hours in advance, unless otherwise noted. All prices are exclusive of 15% VAT.