My Four Seasons
A Town Square Like No Other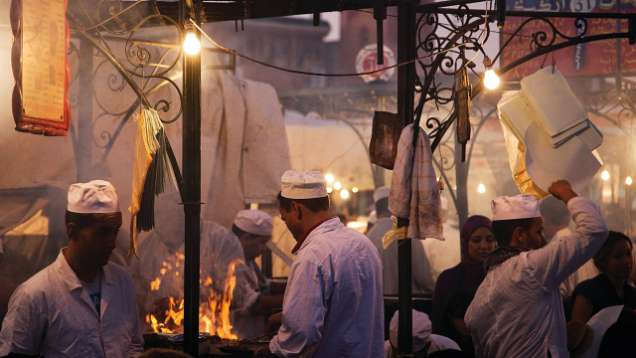 Where do you go for orange juice, quality time with a monkey, and to heal a broken heart? If you're in Marrakech, you'll head over to Jemaa el-Fna. This centuries-old town square in Marrakech's medina quarter is the busiest in all of Africa.


Though it's gone through numerous and untold changes since the city's founding in 1070, Jemaa el-Fna is still considered "the beating heart" of Marrakech. Ever crowded and teeming with activity, it's frequented by everyone from Berbers to tourists and locals.


During the day, Jemaa el-Fna is your traditional market, though the offerings may be a little different than what you're used to back home. Orange juice stalls are popular, as are vendors selling water and snacks as well as brass and leather goods. You'll also find a number of animals on display, their keepers hoping tourists will be willing to hand over a few dirhams for a photograph of themselves with a monkey or an enormous python. Other exotic offerings include the services of snake charmers, magicians, herbalists, dancers, and fortune tellers, their numbers increasing as day turns into evening.


Food is also a big part of the Jemaa el-Fna experience. In the morning it's riifa, a fried dough similar to a pancake or crepe. For lunch, it's soup or salad with tagine (a stew with vegetables, olives, lemon, garlic and spices, cooked in heavy pot) or couscous (steamed semolina with meat, vegetables, or fruit). Dinner can be freshly prepared sausages or grilled lamb's head if you're feeling more daring. Don't forget about a cup of tea at the end of your meal. Mint is one of the most popular.


Around nine or so in the evening, sellers and crowds make their exit and the Jemaa el-Fna reassumes its formerly empty state in a matter of hours. A truly magical transformation, considering the sheer volume of people and activity the market supports during its operation.


A five-minute drive from Four Seasons Resort Marrakech, Jemaa el-Fna is an absolute must-visit. Unsure about directions? Intimidated by the prospect of haggling with the shop owners? The Four Seasons Concierge will be happy to give you some pointers that will help you make the most of your visit to this Moroccan landmark.