Known as "The Red City" for its rose-hued buildings, Marrakech is a cultural destination filled with stunning architecture, artisan traditions and mouth-watering cuisine. Whether you come to shop the souks or explore Morocco's natural beauty, you'll find inspiration in any of this city's colourful corners. To help make the most of your visit, we asked Jinan Aitali, Concierge Supervisor at Four Seasons Resort Marrakech, to share recommendations for the best things to see and do in Marrakech – from how to shop the local souks to where to catch the best Moroccan sunsets.
Retail therapy
At Mustapha Blaoui's shop, Trésor des Nomades, you'll find many rooms, all overflowing with artisanal handicrafts, such as camel-bone-inlaid boxes, traditional textiles and leather poufs. Another favourite stop is Ministero del Gusto (appointments suggested). Even if you aren't in the market for an antique Murano chandelier or a leopard-print armchair, this shop is worth a peek for the striking design: The showroom has textured walls based on the sand houses of Mali and fireplaces inspired by Ghanaian jewellery. Don't miss the Berber-inspired rooftop, and stop to check out the vintage couture on your way back downstairs. No visit to Marrakech is complete without a shopping trip to the city's souks. The best-known souk is just off bustling Jemaa el Fna square, and its vendors offer both traditional and contemporary wares.
One-of-a-kind show
Jemaa el Fna is one of the most vibrant and lively squares you'll find in Africa, with snake charmers, acrobats, dancers, storytellers, food vendors, musicians and magicians. It's also oftentimes incredibly hectic and overcrowded. To enjoy the sights without all the people, head to the rooftop café Terrasse des Épices. You can sip delicious coffee or cocktails while taking in all the activity down below.
Natural wonders
Before there was Sephora there was the souk, where countless herbalists have long marketed Morocco's unique beauty and wellness cures. Of the many herbalists, Nectarome is the best. The lotions and potions (including herb-infused argan oil) are made on an organic farm in Ourika Valley, just outside of Marrakech. Pop into the shop at Almazar Centre Commercial for a quick intro, or, for a more in-depth experience, pay a visit to the farm, where you can enjoy lunch made from organic produce grown on site, tour the facility where more than 50 aromatic and medicinal plants are cultivated, and enjoy a soak in a sunken bath. You can also select teas freshly brewed from a selection of the garden's plants and herbs.
New city diversions
The Guéliz is a modern district built by French and European expats. A flock of up-and-coming designers has landed here, and you'll find fashion-forward clothing stores and interiors shops that put a contemporary spin on traditional Moroccan motifs clustered around Rue de la Liberté. A standout is Fadila el Gadi (by appointment), where you can stock up on classically inspired pieces like reworked military jackets for her and sleek, collarless jackets that are a chic alternative to blazers for him.
Yahya Creation is another must. Morocco is full of beautiful metalwork, but the pieces created by the London-born former martial arts instructor Yahya are some of the most exemplary in the entire country. At his eponymous boutique you'll find lamps, wall hangings, and even furniture made from bronze, silver, wood and stone. Each piece is hand-carved and shaped into an elaborate form, and then drilled with many holes to create soft patterns of light.
Seaside side trip
Located about two hours west of Marrakech on the Atlantic, the quiet port town of Essaouira (pronounced essa-wee-rah) offers one of Morocco's loveliest combinations: a beautiful beach that's a favourite of kite flyers and wind surfers; waters plied by fishermen in blue boats; a tiny, well-preserved medina (a UNESCO World Heritage Site) and souk; dramatic rampart walls built on the cliffs, the waves crashing down below; and a funky, laid-back vibe courtesy of the many artists and craftspeople who call the charming seaside town home. It's a backpackers haven, but a number of smart attractions entice the chic set to explore Essaouira's many charms.
Picture-perfect views
Tucked into the foothills of the Atlas Mountains just outside of Marrakech, the Oliveraie de Marigha farm is the closest place to the city for some of the best views of this part of Morocco. Grab a seat by the pool (and a cocktail, of course) and enjoy jaw-dropping panoramas of the snowy Atlas Mountains in the distance. When you've had your fill of the beautiful views, stay for a casual lunch at the restaurant, which uses produce grown on site.
Mountain majesty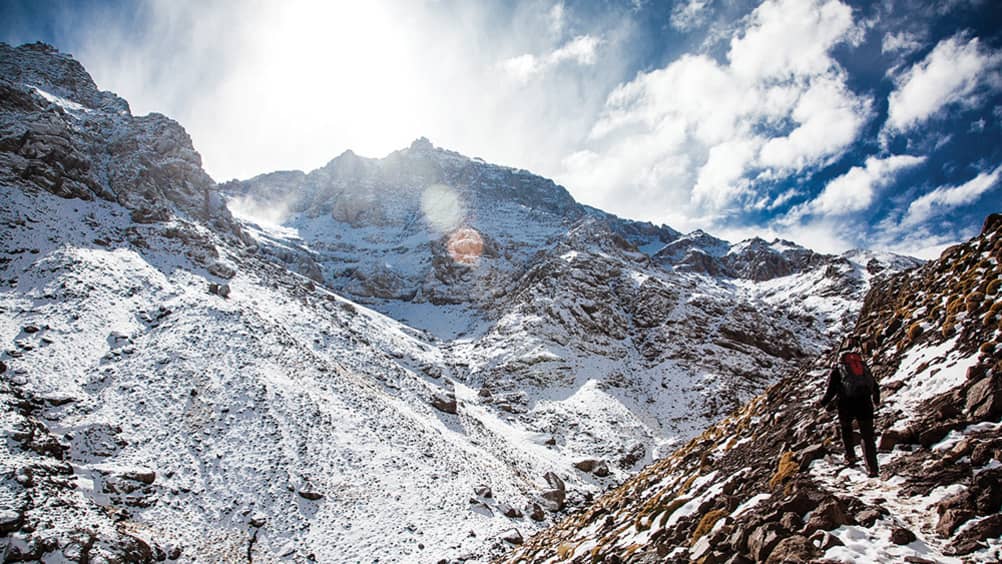 Photography David Crookes
Ask the Concierge to arrange a Land Rover excursion to the high peaks of the Atlas Mountains. You might visit the Berber village of Toulkein, which is well off the tourist track. There, you can experience traditional life, as well as the Berber culture's famed hospitality. Take Moroccan mint tea with locals, followed by a cooking course to learn how to make a fragrant tagine. After lunch and time spent enjoying the views of the unspoiled highlands of the Atlas, you'll be returned to the Resort in time for dinner.
Sundowners
Photography David Crookes
Morocco may be known for its artisan culture, but it's also home to an up-and-coming wine industry. And the vintages—especially the whites—are quite good. At the rooftop lounge Zest at Bleu d'Orange, you can sample some of the best bottles the country has to offer. Arrive at dusk, when you can see the sun setting over the Menara Gardens as musicians provide a live soundtrack to the perfect evening.
Four Seasons Resort Marrakech