Stay Longer – Fourth Night Free
Stay three nights and enjoy a complimentary fourth night.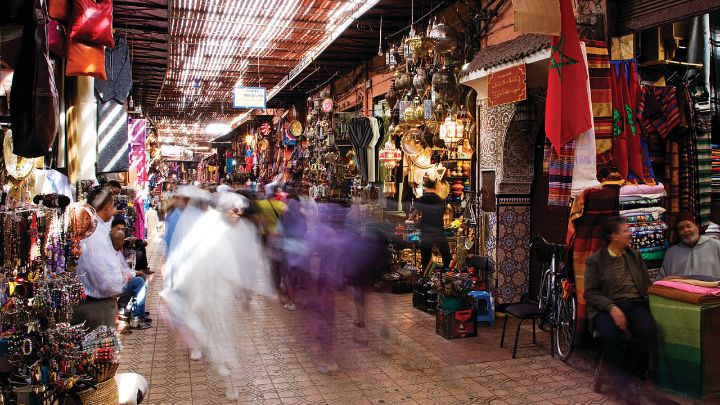 Whether you need general information or information about highlights through the seasons, we hope you will find the facts gathered below useful tools for your travel planning. Please feel free to contact us if we can assist you further.
Seasonal information
6th Edition of Marrakech Biennial
February 24 – May 8, 2016

11th Edition of Festival "We Walk,"
International Festival of Contemporary Dance of Marrakech

March 7 – 12, 2016
22nd Edition of Classic Morocco Rally (The Heart Road)
March 12 – 19, 2016
Marrakech Eclectic: Golf Edition, Intergenerational, Gastronomic
March 30 – April 3, 2016
5th Edition MADJAZZ Festival Marrakech
March 2016
11th Edition of The TransMoroccan RAID MULTISPORTS OUARZAZTE MARRAKECH
March 19 – 26, 2016
32nd Edition of Grand Prix International Tennis Tour, Royal Tennis Club of Marrakech
April 2 – 10, 2016
10th Edition Awaln' Art: International Street Art Meetings
April 22 – May 8, 2016
20th Edition Caftan 2016
April 30 and May 1, 2016
6th Edition of Eco Bike Tour
April 2016
Spring Musical 16th Edition

Essaouira

April 28 – May 1, 2016
4th Edition Marrakech Atlas Etape
May 1, 2016
Marrakech Grand Prix WTCC Race of Morocco
May 7 and 8, 2016
Marrakech Airshow
April 27 – 30, 2016
4th Edition of Al Haouz Festival of Popular Arts and Handicraft in Tahanaout
May 2016
10th Edition Theater International Festival of Marrakech
May 2016
15th Anniversary of Jemâa El Fna square proclamation – UNESCO World Heritage Site
May 2016
19th Edition Gnaoua Festival Essaouira
May 12 – 15, 2016
6th Edition Humour International Festival - Marrakech Laughter
June 2016
Music Festival
June 21, 2016
Ramadan Nights (French Institute of Marrakech)
June 2016
8th Edition of National Sun Festival for Youth & Music
September 2016
7th Literary Award La Mamounia Hotel
September 2016
World Tourism Day L'OMT
September 26, 2016
8th Edition PURE Life Experiences (Luxury Tourism Fair), Palais des Congrès Marrakech
September 12 – 15, 2016
8th Edition Utra Trail Atlas Toubka
October 2016
9th Edition of National Sun Festival for Youth & Music
October 2016
Archery World Cup
November 2016
17th Edition of Marrakech Astronomy Festival
November 2016
16th Edition Marrakech International Film Festival

December 2 – 10
December 9 – 17
Quick Reference
Time zone
GMT
Language(s) spoken
Arabic and French are the primary languages; services are often available in English, Spanish and French.
Electrical system
Local voltage is 220 to 240 volts AC. Adapters available; please request through the Concierge.
Shopping hours
Monday to Saturday: 9:00 am to 1:00 pm and 3:00 pm to 7:00 pm
Shopping malls are open daily 10:00 am to 11:00 pm
Working hours
Monday to Friday 9:00 am to 6:00 pm
Time and distance to city centre
The Resort is located in the city centre.
Time and distance to main attractions
Medina: less than 10 minutes/4 kilometres/3 miles
Palais des congrés: 5 minutes/1.5 kilometres/0.9 miles
Guéliz & Shopping Malls: 5 minutes/2 kilometres/1.5 miles
Sidi Ghanem: 15 minutes/7.5 kilometres/4.5 miles
Public Holidays
| | |
| --- | --- |
| New Years Day | January 1, 2016 |
| Independence Manifesto Day | January 11, 2016 |
| Malid un Nabi (Birth of the Prophet Muhammad) | January 13, 2016 |
| Labour Day | May 1, 2016 |
| Eid al-Fitr (End of Ramadan) | July 7, 2016 |
| Throne Day | July 30, 2016 |
| Oued Ed-Dahab Day | August 14, 2016 |
| Revolution Day | August 20, 2016 |
| King Mohammed IV's Birthday | August 21, 2016 |
| Eid al-Adha (Feast of Sacrifice) | September 13, 2016 |
| Fatih Muharram (Islamic New Year) | October 3, 2016 |
| Green March Day | November 6, 2016 |
| Independence Day | November 18, 2016 |