Services & Amenities
Only in Lanai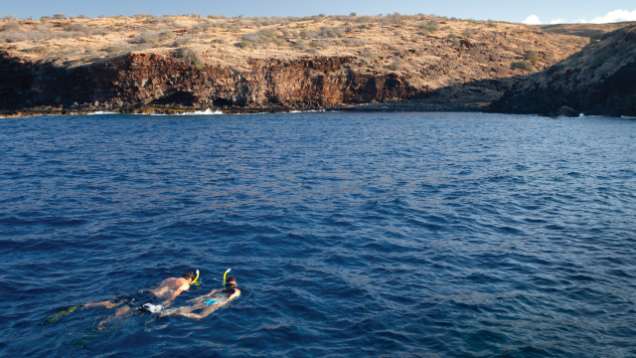 Hawaii's private island of Lanai rewards visitors with unique experiences available only in this picture-perfect tropical paradise. Discover the best of the island with activities for everyone from the casual wanderer to the off-road adventurer.
Dive into a protected marine preserve

Steps away from the Resort sits Hulopoe Bay, one of Hawaii's rare protected marine preserves. The waters of this marine sanctuary are exceptionally clear and the beautiful coral reefs are virtually undisturbed, making it an exceptional location for snorkelling and diving. It is common to see spinner dolphins and colourful tropical reef fish close to the shoreline, and humpback whales pass through during the winter months. Snorkels, fins and masks are offered on a complimentary basis to guests, and a wide selection of instruction and advanced snorkels and dives is offered daily.
Take the road less travelled – 4x4 off-roading adventure

With only 30 miles (48 kilometres) of paved road, the island of Lanai is perfect for off-roading adventures. Explore seemingly endless stretches of the island's rugged terrain while taking in the stunning scenery of the Munro Trail, Keahkiawelo (Garden of the Gods), Polihua Beach and Kaiolohia (Shipwreck Beach). Be sure to pack a Four Seasons picnic for an unforgettable dining experience at the scenic location of your choice. Jeep rentals and guided tours are available, offering something for all kinds of adventurer.
Vacation like royalty

Said to have been one of King Kamehameha's favourite places, Lanai is where the legendary king spent his summers. Kaunolu Village on the southern tip of Lanai, one of the king's favourite fishing spots, is where he retreated after conquering Maui, Molokai and Lanai. Here you'll find the spectacular Shark Fin Cove, the remains of the Halulu heiau (sacred temple), and Kahekili's Leap, where warriors would demonstrate their bravery by diving off a 60-foot (18-metre) cliff.