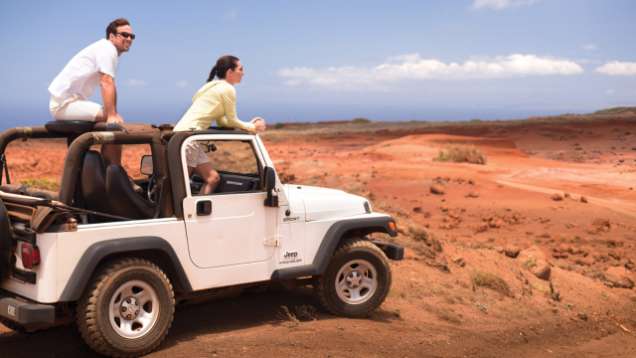 Hiking, off-roading and lawn bowling. These and more land-based activities await at Four Seasons Resort Lanai at Manele Bay.

Hiking

Fascinating hiking routes are available. Take a self-guided walk along white sand beaches and enjoy Lanai's natural beauty and breathtaking coastline.



Enjoy the solitude of Lanai as you begin your hike through the forested hills and valleys of the Koele uplands. The forest canopy, with its filtered sunlight, gives way to open vistas and steep ravines once carved by flowing lava streams. Two valleys drop sheer on both sides of the centre ridge as the islands of Moloka'i and Maui thrust skyward across the northern horizon.

Lanai Sporting Clays and Archery Range

Our expansive highlands centre features a 14-station sporting clay course, a skeet field, wobble traps, a compact sporting range, a 12-station archery range and a 6-station air rifle range.


One of the most challenging sporting clay sites in the world, the facility features a dramatic landscape of deep gulches and ravines, vast expanses of pampas grass and groves of Australian pine and lantana brush. With each station offering sporting clays launched to simulate flight patterns of duck, quail, dove, pheasant and even running rabbit patterns, this course offers endless challenge and entertainment. Beginners are introduced to the sport with a 45-minute lesson from a certified instructor, who emphasises the essence of the sport and gun safety. Fees apply.

utv rides

Explore Lanai's rugged off-the-beaten trails on a guided UTV (4-wheel Utility Terrain Vehicle) and meander through the island's majestic Ironwood forests, verdant valleys and inspiring scenic vistas overlooking the neighbour islands. The UTV Ride also offers a "Ride and Shoot," combining the adventure of the UTV excursion with sporting clays.

4X4 OFF-ROADING EXCURSION

Polihua Beach and Shipwreck Beach
With only 30 miles (48 kilometres) of paved road, the island of Lanai is well suited to off-roading. Explore miles and miles of the island's rugged terrain while taking in the scenery of the Munro Trail, Garden of the Gods, Polihua Beach and Shipwreck Beach. Take along a Four Seasons picnic for a private, unforgettable experience at the location of your choice. Jeep and Hummer rentals and guided tours are offered, satisfying all levels of adventurer.

HORSEBACK RIDING – STABLES AT KOELE

Discover the timeless landscapes of Lanai on horseback. Explore wooded upland trails and hidden valleys – home to axis deer, pheasant, mouflon sheep and turkey – and come upon magnificent vistas of neighbouring islands. The Stables at Koele offer modern facilities with expert staff on hand to guide and recommend trail rides to suit your riding experience. Kind and gentle, the horses are suitable for all levels of rider, whether beginner or experienced. Fees apply.

Carriage Rides

Enjoy and enchanting horse-drawn carriage ride through Lanai's picturesque upcountry.