Function Rooms
The Library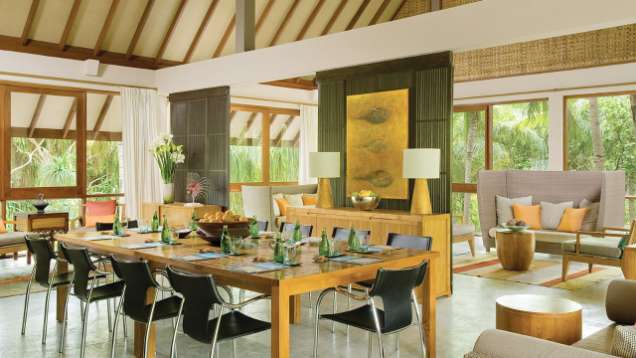 Housed in a comfortable lounge in the Recreation Centre, The Library offers treetop views of the island. It is ideal for an intimate meeting.
Why You'll Love It
Room with a View
Take advantage of the Library's lofty perch for treetop views of the island.
Intimate Design
This room is ideal for an small meeting.
Traditional Décor
The building is in Maldivian style – with a 45-degree thatch roof – complemented by modern tropical interiors.
Room Details
Seating
Classroom
Hollow Square
U-shape
Theatre
Reception
Conference/Boardroom

15
15
15
15
15
15

Occupancy
Up to 15 guests
Room Features
Wireless Internet access is available

Location
Second floor of the Recreation Centre
View
Treetop views of the island
Size
Area
Dimensions
Height

150 m2 (1,615 sq.ft.)
10 x 15 m (32.8 x 49.2 ft.)
6.3 m (8 ft.)

The ceiling is a 45-degree thatch roof.