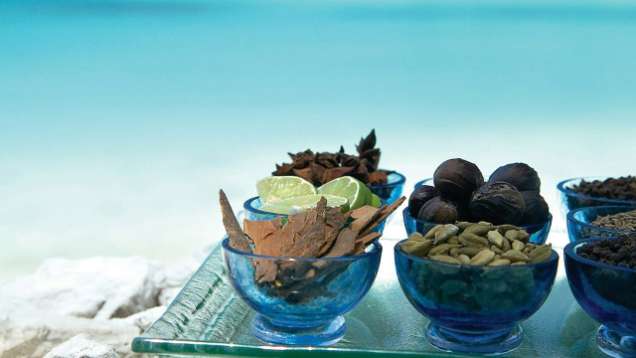 These five specialty facials are enhanced by Sodashi's facial massage technique and complemented by natural skincare products tailored to your skin's individual needs.
Sodashi Samadara ultimate age-defying
To reawaken the skin's natural healing energies, this intensely hydrating, nourishing treatment uses a sequence of timeless anti-ageing techniques rooted in ayurvedic healing traditions. Skin is visibly transformed with increased firmness and elasticity, a youthful glow and reduced fine lines. A rose quartz crystal facial massage enables deeper penetration of the powerful Samadara ultimate age-defying cream for maximum benefit.
Sodashi marine mineral
Using the nurturing intelligence of marine plants such as spirulina and fucus, this facial brings renewed radiance and glow to your complexion. Tailored to your unique skin type, it's the perfect treatment to oxygenate, tone and revitalize the skin.
Tropical flower revitalizer
Take your skin on a journey of total renewal with this refreshing facial. Sodashi's warm aromatic facial compresses soften and exfoliate, and a nurturing face mask, rich in herbal extracts, purifies and hydrates. Tailored to your unique skin type and enhanced by Sodashi's facial massage techniques, this restorative treatment uses luxurious Sodashi Plant Essence Synergies to leave skin revitalized and refreshed.
Crystal opulessence
This unique and deeply relaxing facial experience uses the healing energy of carnelian, rose quartz and green aventurine crystals to bring new life and radiance to the complexion. Warm facial compresses and polish soften and exfoliate the skin, then a mask rich in minerals and restorative plant essences of jasmine and ylang ylang revitalizes. The results are impressive and help to bring balance to the physical, emotional, mental and spiritual self.
Sodashi mankind
This deep-cleansing and exfoliating facial for men balances the skin's natural oils and helps prevent ingrown hairs. The treatment begins with a relaxing Sodashi Himalayan salt therapy back massage and ends with Sodashi's soothing mists, with woody aromas to desensitize the skin. Using tailored men's products and a relaxing facial massage, the facial cleans, tones and firms, leaving you looking and feeling fresh and revitalized.
Please note: Prices and treatments are subject to change without notice. Prices will be subject to 23.2% combined taxes and services charges.