My Four Seasons
Table for Two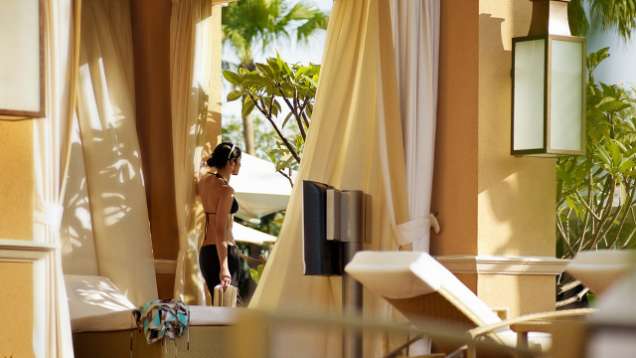 Picture yourself and a loved one sitting down to a romantic dinner for two. In a luxurious private cabana surrounded by five placid pools, candlelight illuminates rose petals as the stars reflect the calm waters.

This culinary oasis seems like a fantasy in a bustling city like Macau, but thanks to the talented chefs in the Hotel, this meal is a tantalizing reality. Through the Hotel's poolside cabana meal option, you can enjoy a totally private dinner of the city's finest cuisine in unrivalled ambiance.

While this setting alone would make the meal unforgettable, it's the food that makes the experience indispensable. The chefs will create a personalized mix of flavours, borrowing culinary traditions from China, Portugal and other trading nations from around the world. Though the food might be different any day of the week, you can expect only the freshest local ingredients, seafood and produce.

For example, you might tempt the appetite with "pata negra" ham, mountain cheese, blood sausage with apple, marinated olives and homemade pickles. You might even pair a fine wine with chestnut cream, port wine reduction and foie gras toast. Be sure to taste the signature Macanese delicacy of cod fish, in this case, as a confit with a caviar bread pudding of seafood and "caldeirada" relish. And if you have room to sample dessert, linger in your cabana over Four Seasons cheesecake, fresh fruit, cinnamon streusel and vanilla sauce.

Perfectly alone, the only people you'll see are our impeccable waitstaff efficiently bringing out each new course and intuitively filling your wine glasses. It's an experience so peaceful and intimate, you can be forgiven for thinking you have the entire city to yourself.