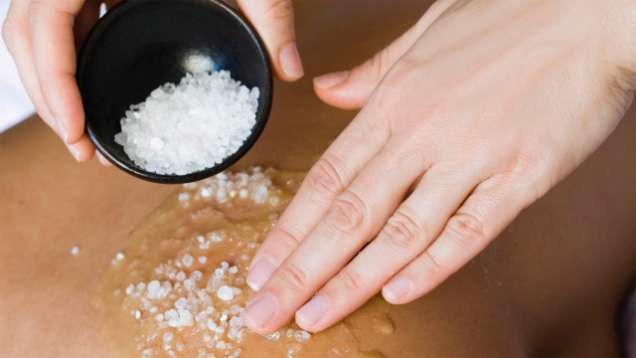 Alternative Therapy
Body Slimming Treatment
This treatment reenergizes while promoting detoxification. It begins with a dry brush exfoliation to stimulate lymphatic drainage and circulation while promoting the absorption of clinically tested slimming actives. A mask of nutrient-rich algae is then applied to the body and is followed by a deeply relaxing head massage. Next, an intensive, highly concentrated body serum containing slimming actives plus firming and refining extracts is applied, boosting elasticity and refining the skin for a sleek, smooth, contoured look.
Body Brightening Treatment
Promote luminous and smooth skin with a natural exfoliating enzyme application followed by a series of stimulating body buffing techniques that refine texture and brighten skin. This treatment also includes the application of pre-moistened body peel cloths with a multi-acid complex and botanical enzymes to reveal a smooth, bright and healthy-looking appearance. The brightening body scrub includes exfoliating bamboo, jojoba beads and stimulating fruit enzymes to polish and refine the body. Organic ginger oil is then massaged into the skin, along with a multivitamin firming crème rich in shea butter and algae.
Biomeditation Therapy
This gentle yet profoundly healing hands-on therapy will nurture, detoxify and balance every cell of your body. Bioenergetic meditation creates a foundation for health and inner harmony. Energetic blockages are removed, strengthening your innate life force. This specialized process begins working wherever your body needs help and in a manner that best suits individual healing. The proper function of the endocrine, nervous and immune systems are supported as metabolism is optimized. Experience dreamlike relaxation as different forms of conscious and unconscious anxiety are removed. Enjoy the benefits of your mind and body in harmony through this unique energetic therapy.

Wraps
Bioenergizing
An exfoliation and wrap that revitalizes the skin, the lymphatic system and the body's bioenergy field, this warm and blissful treatment also aids circulation, helps eliminate toxins and can promote profound healing. During the scrub, Himalayan salt crystals warmed by friction emit large amounts of negative ions. A full-body wrap then allows organic mud to interact with the salts to cleanse and strengthen the body's bioenergy field with more light. After the salt, essential oils and organic mud are rinsed away, a deeply nourishing body balm is massaged into the skin.

Detoxifying moor mud
This revitalizing European therapy utilizes mineral-rich Hungarian moor mud to heal, soothe and rejuvenate dull and tired skin. Warm mud is applied to the body before it is wrapped in warm blankets then massaged with essential oils of juniper, rosemary and lavender.

Aloe & Arnica Envelopment
A beautiful herbal remedy for cell regeneration and synthesis of collagen, elastin and keratin, this replenishing wrap protects your skin against free radicals and helps repair aging and sun-damaged skin. Healing aloe and noni juice restore and repair while arnica soothes inflamed and stressed skin and treats overworked muscles. A transformative scalp treatment with massage is performed while you are wrapped. Finally, an application of body balm is skilfully applied all over, leaving you feeling refreshed, nourished and hydrated.

Body Polish
Manipura experience
This full-body experience helps release toxins and relieve fatigue. The treatment begins with a Himalayan crystal scrub to purify, detoxify and stimulate the lymphatic system, followed by a Manipura massage: a full-body treatment that allows a positive flow of energy to restore balance and leave your mind, body and spirit sparkling.

The Punta Mita retreat
The retreat starts with a margarita scrub – an all-natural exfoliating treatment blending pure essential oils of lime, orange, apple and tangerine with tequila, sunflower oil and sea salt. Afterwards, rinse off and relax with the healing, detoxifying effects of the Punta Mita massage, which uses tequila and sage oil.
Honey Dream Treatment
Honey, propolis and royal jelly are prized for their ability to boost the immune system and for their skin-healing properties. This unique treatment incorporates all three with a full-body rhythmic massage performed using natural honey, a beeswax and propolis thermal treatment, and a royal jelly facial mask. Natural honey used during the massage treatment has an adhesive effect, creating a uniquely exfoliating and deeply relaxing myofascial massage experience for your back. The beeswax and propolis thermal pack dissolves into your skin while you are being expertly massaged with a natural honey-ginger oil, and the royal jelly facial mask is used to regenerate and moisturize your skin.

Traditional Turkish scrub
During this exhilarating two-step exfoliation, thermal salt rich in minerals and trace elements is rubbed into the skin, then a loofah scrub stimulates circulation and leaves the skin smooth and soft.
Margarita scrub
This all-natural exfoliating treatment uses a blend of pure essential oils – lime, orange, apple and tangerine – with tequila, sunflower oil and salt, concluding with a specially blended cucumber lotion designed to hydrate, calm and refresh the skin.

Chamomile body scrub
Discover just how smooth your skin can be. Your body will be gently exfoliated with a soothing chamomile body polish, then revitalized with a chamomile gel loofah scrub and chamomile dry oil spray, leaving your skin feeling flawless.
Essential Exfoliations
These organic full-body scrubs stimulate circulation and the lymphatic system and aid in the rapid elimination of toxins. When warmed through friction, the organic Himalayan salt crystals used in the scrubs emit negative ions, which, in concert with essential oils, have a vitally uplifting effect on the body and spirit and strengthen the body's bioenergy field. The treatments also brighten skin tone and improve texture, resulting in remarkable radiance. Choose from the energizing and detoxifying or blissful body scrubs.

Airbrush Tanning
In only 15 minutes, our tanning solution will create a beautifully glowing tan that will continue to develop over the next 5 to 12 hours. Your tan will last from five to seven days, depending on your skin type and level of preparation. For best results, book this treatment after one of our amazing body scrubs.

Note: Prices and treatments are subject to change without notice.