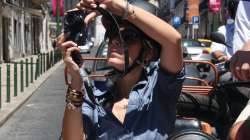 Photograph Lisbon on a Vintage Moto-Sidecar
With your camera in tow, strap on your motorcycle helmet and get ready for an exhilarating four-hour photography tour of Lisbon as you've never experienced it before.

Offers available at Lisbon (6)
Offers available at Lisbon (##)

Best Rate Guaranteed
Book direct and get the best rate, most favourable cancellation terms and our highly personalized service, guaranteed.
Room Rate
Best available room rate. Our most flexible option.
Bed and Breakfast
Enjoy a perfect night's sleep and start off your day with a meal in the refined Varanda Restaurant.
Moto-Sidecar Package
Experience Lisbon as never before with this unique three-hour motorcycle sidecar tour.
Minimum Stay: 3 Nights
Maximum Stay: 12 Nights
Spa Retreat Package
This relaxing retreat includes a luxurious spa experience and daily breakfast for two.
Minimum Stay: 2 Nights
Maximum Stay: 12 Nights
We're sorry, Lisbon does not support online booking at this time. Please call 351 (21) 381-1400 for assistance.