Room Rate
Best available room rate. Our most flexible option.
Meetings & Events
Conference Planning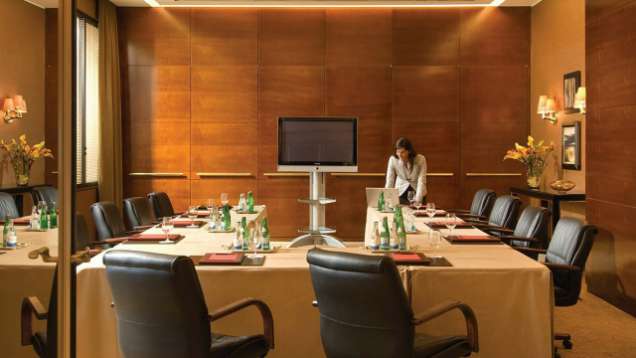 Four Seasons Hotel Ritz Lisbon's unique banquet and conference rooms offer the flexibility to accommodate gatherings for 10 to 600 people. Function rooms feature in-room telephones and natural light; some rooms have private balconies overlooking the Hotel's gardens. All spaces give you access to the renowned Four Seasons touch, from imaginative planning assistance and menus to meticulous service that ensures the success of your event.
Technical Assistance
The Hotel continually updates its presentation equipment and keeps pace with changing technology. The following are available: on-site technician, overhead projectors, LCD colour display panel, slide projectors, video cameras, video projectors, video players, microphones, mixers, amplifiers, audio cassette players, CD players, stands, easels and flipcharts.
Music and Entertainment
The Hotel's on-site conference services manager will be happy to assist with setting up any type of music or entertainment.
Catering
In an outdoor venue of your choice, be it a Bullfighting arena or a former royal palace, Four Seasons Hotel Ritz Lisbon brings excellence in gastronomy and service to a setting that allows you and your group to enjoy the culture.
Receiving and Maintenance
The Hotel features a full-service shipping and receiving office. All packages should be sent to the conference services manager. They will be stored in a separate conference storage area. Limited space is available for the storage of large items. Please time shipping to the date of your arrival. Special arrangements made with the conference services manager are required for delivery of oversized packages and post-conference shipping.

The engineering department is available for general assistance with lighting, room temperature control and minor repairs.
Welcome Amenities and VIP Gifts
Special arrangements can be made for clients to purchase welcome amenities for their VIP guests, including port wine, bottled water, a basket of fruit or an arrangement of fresh flowers.
Spouse programs
The Hotel offers many activities to interest spouses of meeting participants:


City tour of various historical sites

Shopping tours

Cooking class/demonstration

Scenic cruises of the Tagus River

Private viewings of Museums


Personalized shopping experience

Wine tasting

Family programs
We are pleased to help arrange appropriate activities for visiting families. Please contact the Hotel directly for more information.
Discover flexible spaces that adapt perfectly to your meeting goals, along with technology that accommodates the most demanding presentation and communication requirements. Experienced Four Seasons support is on site to promptly respond to every need.
Quick Reference
Time zone
GMT

Language(s) spoken
Portuguese is the primary language; services are often available in English, Spanish and French.
Electrical system
Local voltage is 220 to 240 volts AC. Adapters available; please request through the Concierge.
Shopping hours
Monday to Saturday 9:00 am to 1:00 pm and 3:00 pm to 7:00 pm
Shopping malls are open daily 10:00 am to 11:00 pm
Working hours
Monday to Friday 9:00 am to 6:00 pm
Time and distance to city centre
The Hotel is located in the city centre.
Time and distance to shopping
Amoreiras: 5 minutes/0.5 kilometres/0.3 miles
El Corte Ingles: 7 minutes/ 0.7 kilometres/0.4 miles
Baixa: 10 minutes/1 kilometre/0.5 miles
Colombo: 20 minutes/5 kilometres/3 miles
Avenida de Liberdade: 5 minutes/0.5 kilometres/0.3 miles

Time and distance to financial district
15 minutes/2 kilometres/1 mile