PRESS manager Sanjiv Gupta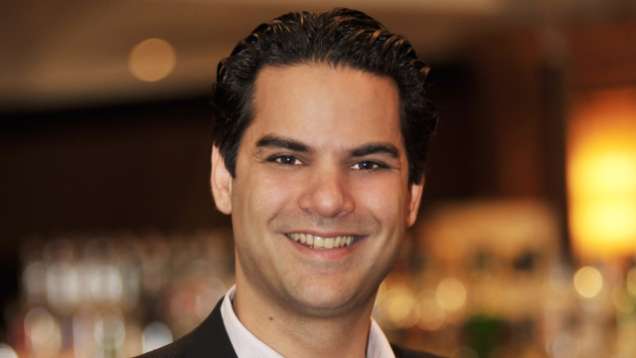 Who would have guessed that the product of a strict British boarding school would end up a bar manager and mixologist in a city where rules are meant to be broken?

Unexpected? Perhaps. But when Sanjiv Gupta first arrived on the glittering Las Vegas Strip after transferring from Four Seasons Hotel St. Louis, he was immediately drawn to the burgeoning restaurant and nightlife scene of the larger-than-life city.

"Everything in Vegas is done on a much grander scale," he says. "There are very few cities that have this kind of concentration of restaurants, bars and nightclubs." The son of a Belgian mother and Indian father who spent the first half of his life in Europe, Gupta is only in his thirties but already has more than fourteen years of food and beverage experience under his belt. He first became attracted to the industry while he working his way through school.

After arriving at Four Seasons Hotel Las Vegas on a temporary assignment, he quickly made a name for himself as an Assistant Manager at Verandah restaurant, where he helped revitalize the bar scene with the creation of a new cocktail program.

When the Hotel's new indoor/outdoor bar, PRESS, opened in 2013, Sanjiv was given the opportunity to further spread his wings as bar manager, creating an innovative menu of handcrafted cocktails and what he refers to as "elevated bar food."

At PRESS, Sanjiv has conceived a selection of specialty and speakeasy cocktails, many of which incorporate fresh ingredients (consider the locavore Las Vegas Sunset, a 100 mile cocktail). The bar's signature cocktails include the Hibiscus Julep, made with Absolut Hibiskus and fresh mint, and the Watermelon Granita, a refreshing combination of fresh watermelon, prosecco, and Grey Goose Le Citron. Guests can also indulge in a tasty array of small plates inspired by seasonal American favorites.

PRESS is open until midnight, which means long hours and little free time. On his days off, however, he enjoys exploring new restaurants and bars both on and off the Strip. Lucky for Gupta, Las Vegas is a 24-hour town and there is always time for research.