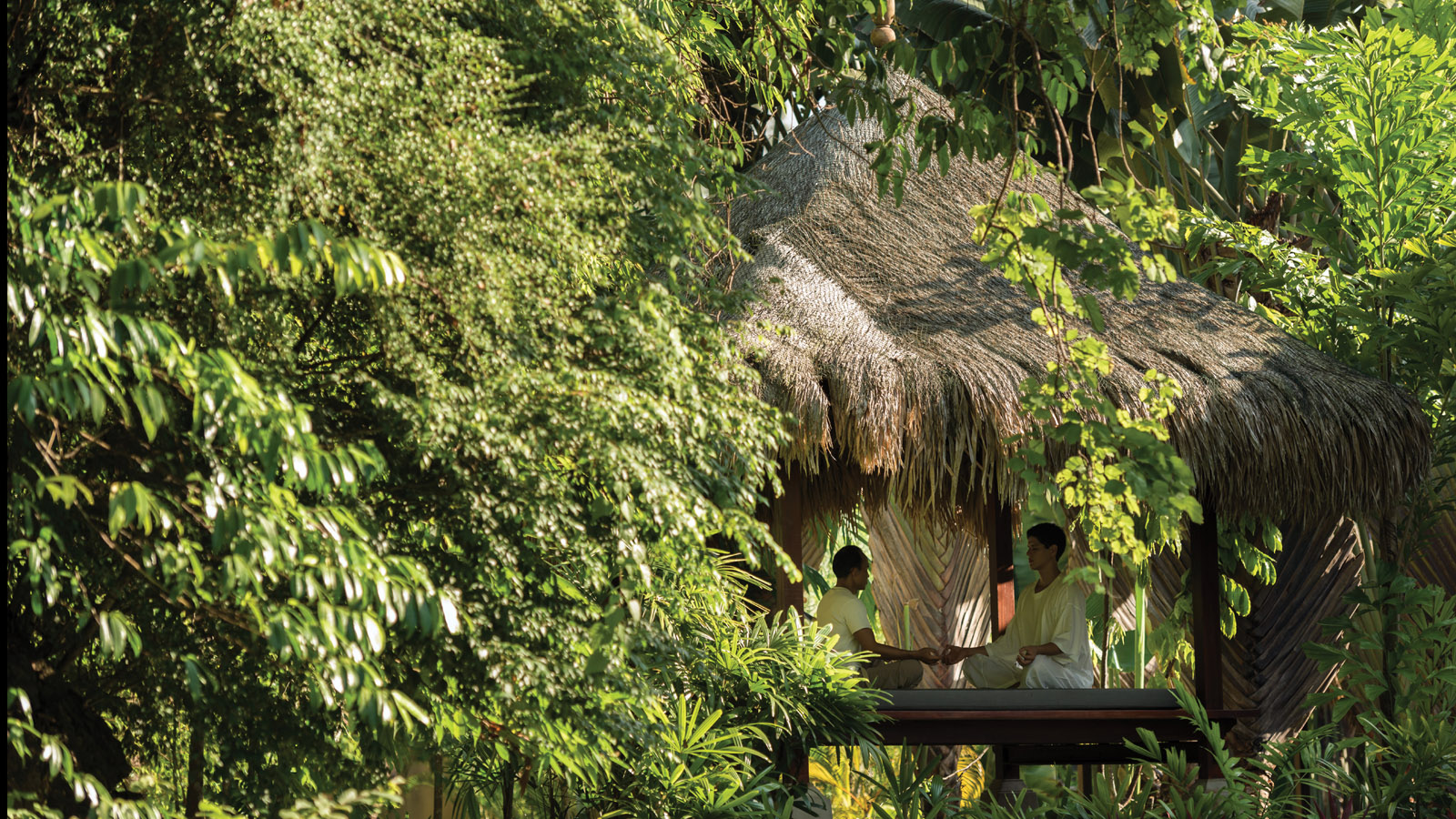 Air acts as an invisible, universal force on our lives. It represents what we cannot see, from purity of heart to clarity of thought. It also reflects the synergy between our own lungs and those of our planet, from the oxygen that trees produce to the carbon dioxide they absorb.

Inspired by the constant purification of air in Langkawi's abundant rainforests, our Air treatments pay homage to the relationship between man and nature, body and mind, and to the healing stillness that pervades when both are in perfect balance.
Age-reversing Facial
A "fountain of youth" inspired facial that draws on nature's most potent elixirs to rejuvenate and regenerate skin, especially following exposure to sun or harsh winter air. The unique anti-ageing serum, mask and cream combine a pioneering trio of boswellic acids (anti-inflammatory), bio-hyaluronic acid micro-molecules (super-hydrating) and gold (collagen-stimulating) to restore an optimum cellular state. Ultrasound therapy ensures maximum product penetration for longer-lasting plumpness, with different light frequencies for a range of benefits: red (to reduce scars and stimulate circulation and cell growth); blue (to regulate sebum and calm inflammation) and green (for enhanced anti-ageing rejuvenation).
Jantung Heart Ritual
The element of air is linked to the heart chakra, our centre of compassion and healing. This beautiful treatment combines focused heart work with pure ayer mawar and rose quartz to encourage deep understanding and the giving of love with sincerity. Equilibrium is restored, leaving you feeling at one with yourself and those around you.
Rainforest Rejuvenation Face Therapy
This deeply restorative face treatment softens, tightens, balances and brightens thanks to its exclusive blend of life-giving rainforest plant extracts. A warm herbal compress massage, deep lymphatic drainage and rainforest mud mask further strengthen and regenerate cells at a deep level.
Rainforest Ritual
The mind is strongly influenced by and connected to the air element. This treatment realigns and rebalances the body/mind harmony, using vibrant rainforest herbs such as marapuama and pfaffia to help strengthen mental energy and clarity. The scrub and wrap are followed by a soporific Vichy shower, after which the marma massage helps connect body and mind, balancing the air element more strongly than any other form of massage.
Bliss Body Renewal
Using the healing and balancing properties of the purest salt crystals, this body renewal is ideal for times when special pampering is in order. A sublime combination of ayer mawar, bunga melur and rosehip seed oil gently restores and relaxes the nervous system. Skin is left glowing, while the body is left infused with a sense of enhanced well-being.
Veya Experience
This heavenly experience, with keynotes of mawar and bunga melur, uses the earth's healing energies to reawaken the body and spirit and restore stillness. The blissful body scrub prepares you for a full Body Balm massage, which is followed by an Ananda Face Therapy to gently balance the upper chakras – centres of inner wisdom, harmony and truth.
In-room Bathing Experience
Soak in the tranquillity of your guest room or suite with Inner Peace Bath Salts with bunga melur and kemboja, followed by Glowing Radiance Body Cream.
Resort Activities to Support Air Treatments
Jalan Jalan
Muay Thai
Pranayama yoga
Private yoga sessions
Note: Prices and treatments are subject to change without notice. Prices are subject to a 10% service charge.