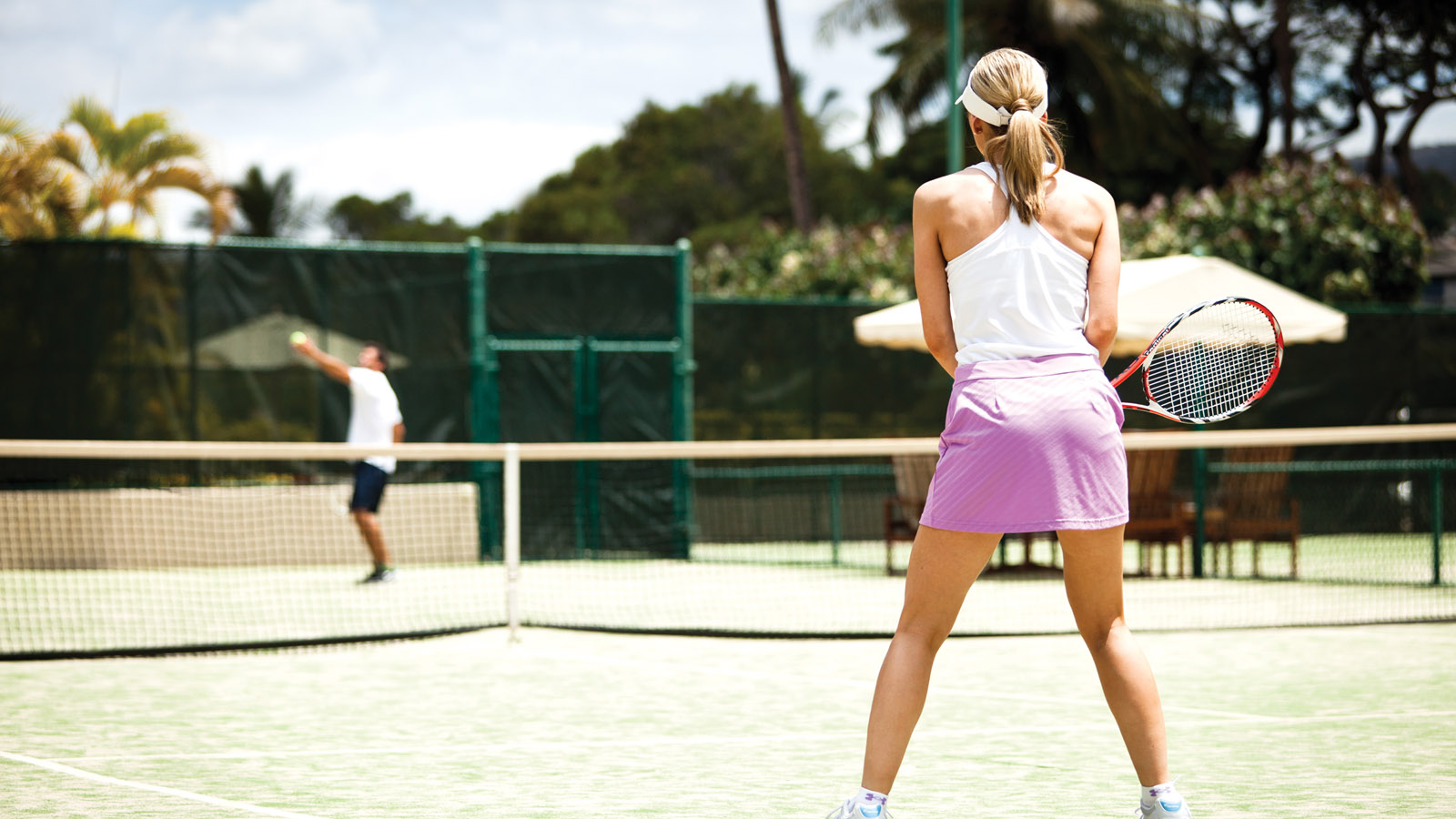 Managed by world-renowned Peter Burwash International, the tennis facilities at Four Seasons Resort Lanai include two outdoor Plexipave cushion courts and one Har-Tru Green Clay court.

Facility details
Total number of courts

3
Outdoor surfaces

3
Court
USD 55 per hour
Ball machine

USD 50 per 30 minutes

USD 65 per 60 minutes

Premier Court cushion surface
Complimentary demo tennis racquets, balls and court shoes available


Pro-shop
Restringing services

Tennis Pro on Staff: Tuesday–Saturday
For availability and scheduling, please contact Ryan Winters, our Tennis Pro, or call +1 (505) 350-7355.
Clinics
Players of all abilities can strengthen their game and enjoy a solid workout during an organized skills clinic.

Drill and Play (Ages 16+): TUESDAY – FRIDAY, 10:00 AM – 11:00 AM
Each drill or game is adaptable to challenge the individual player. The stroke-based drills will improve your dexterity, while the movement drills will increase your fitness and balance. Match play will aid your strategic decisions as you have fun putting it all together in a beautiful environment. Drill and Play is open to players of all levels. USD 50 per player; reservations required.

Tennis Skills and Drills for Keiki With Kids for All Seasons
Children ages 5 to 12 involved in the Kids For All Seasons program can experiment with the game of tennis, practicing their strokes and learning rules of play during a special kids clinic. The activities are tennis-based but adjusted to allow success for all ages and skill levels. If your child is an experienced player age 5 to 15 years, a private 30- or 60-minute lesson may be a better option.

TENNIS OPEN HOUSE: SATURDAY, 9:30–11:00 AM
Get tips from the Resort pros during this open house. Open to anyone interested in tennis, this session of drills and match play offers something for novices and experienced players alike. USD 35 per player; reservations required.

LESSONS: AVAILABLE 7:00 AM–6:00 PM DAILY
| | |
| --- | --- |
| 30-minute private lesson | USD 80; USD 10 for each additional participant |
| 60-minute private lesson | USD 140; USD 15 for each additional participant |
Please note: Prices do not include taxes and service fees.
ABOUT PETER BURWASH INTERNATIONAL
Peter Burwash International (PBI) is the premier tennis management company in the world. PBI manages more than 50 clubs and resorts in 23 countries. With more than 90 professionals, PBI has taught more than 3 million students since 1975. PBI's reputation has been built on providing world-class service and quality instruction. Peter Burwash, founder and president of PBI, was Canada's number-one player, played on the Canadian Davis Cup Team, and was a tour player who became a USPTA Tennis Master. In addition to on-court prowess, Burwash's off-court wisdom and insights are featured in the book Hero, by Rhonda Byrne, which highlights her list of the 12 most successful individuals living in the world today.

Burwash's tennis career culminated with his induction into the Tennis Industry Association Hall of Fame, where he joined other tennis greats such as Billie Jean King. Burwash was the personal coach of Isadore Sharp, founder of Four Seasons, and with their collective thinking they made Four Seasons hotels and resorts top destinations for tennis players. Enjoy the unique and memorable experience of playing with your PBI Tennis Professional.