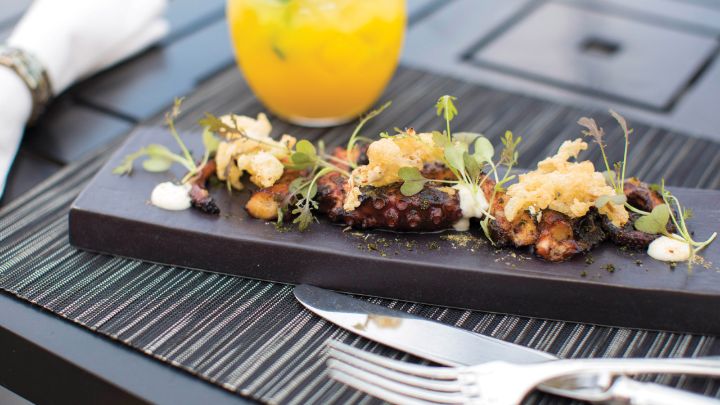 If you delight in tracking down intriguing new restaurants, exploring local markets and sampling indigenous ingredients, you'll find plenty to please your palate at Four Seasons Resort Lanai.
POKE CLASSES

Poke – a Hawaiian version of Japanese sashimi – is a local staple, showcasing freshly caught raw fish with various additional flavours. Join the chefs at ONE FORTY to learn more about this dish as they demonstrate the art of fileting a whole fish, showcase the types of fish caught locally, and describe the flavours and textures of the meat. Following the preparation, enjoy a variety of poke samples and wine pairings. You'll leave with a satiated palate and a handful of recipes to try at home.
Nobu Lanai Private Cooking Class

At Nobu Lanai enjoy a special interactive culinary adventure. Become inspired while learning the innovative Japanese cuisine techniques of world-renowned chef Nobu Matsuhisa. Join the Nobu Lanai team in a private dining area for a bespoke cooking class from couples to groups of up to 10 friends and family. To start, Chef demonstrates how to properly prepare and make sushi rice, poach shrimp for nigiri and make tuna tataki.

Follow along as the Executive Sushi Chef prepares a selection of Nobu's signature sushi dishes, then it's time to taste. Afterwards, you'll take a turn making Nobu signature hand rolls with the Sushi Team. Layer nori (seaweed), rice and salmon for a simple classic roll or choose from locally sourced vegetables like avocado, scallions, daikon, cucumber and more for more complex flavor profiles. Let your imagination and Chef guide you while crafting a selection of nigiri. Finally enjoy a private four-course lunch overlooking Hulopo'e Bay with tastes of Nobu Sakes & Nobu Wines.

Reservations recommended, 48 hours in advance.
FLIGHTS OF FANCY

Sample the most coveted wines in one flight, courtesy of the Coravin™ system. The Coravin technology leaves the cork in place, safeguarding wine from oxidation and allowing you to enjoy 3-ounce pours without ordering or opening the entire bottle. Your Coravin tour includes tastings of exclusive wines from France, Italy, California and other regions, expertly paired with a selection of canapés. Enjoy your tasting at ONE FORTY or, upon request, at any of our other restaurants.
NOBU LANAI HOKUSETSU SAKE TASTING

Experience the flavours of Japan with a tasting of three sakes at NOBU LANAI. Hokusetsu – the restaurant's preferred sake brewery – is an award-winning independent brewery established in 1871 on Sado Island in the Sea of Japan. Our Sake Master will take you from the driest Onigoroshis all the way to the dynamic Daiginjos. No reservations are required – just walk in and learn how appearance, scent, flavour, texture and temperature influence this unique and versatile wine.