Take a few rounds of golf in Lanai on an outstanding course designed by the legendary Jack Nicklaus, Manele Golf Course.
Outstanding is Par for the Course
Our world-ranked golf course in Lanai, Hawaii makes the most of its lush highland and picturesque seaside landscapes with cliffside holes and wooded slopes.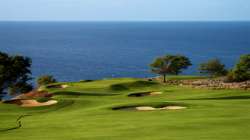 Manele Golf Course
High above the crashing surf of Hulopo'e Bay, this majestic course built on lava outcroppings uses the natural elements of the landscape to test golfers's swings, strokes and puts.