SPA
Signature Element Rituals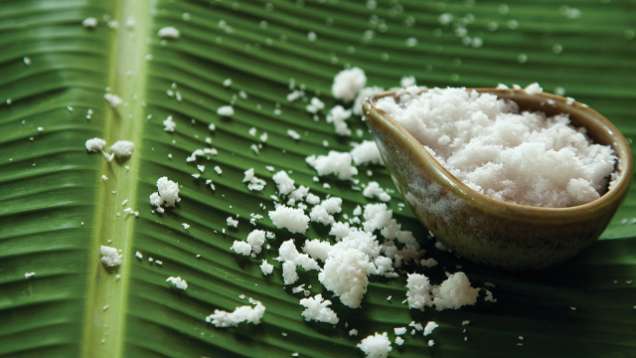 Full moon ritual
The waxing phase of the moon up until the full moon is the ideal time to nurture and calm body and mind. This blissful experience re-awakens the body and spirit while promoting a sense of calm. A body scrub using precious rose, jasmine and sandalwood oils prepares the body and mind for an energy-balancing Chakra Crystal Massage. The ritual concludes with a luxurious Bliss Facial.
New moon ritual
The waning phase of the moon up until the new moon is the perfect time for internal and external detoxification. During this ritual, a marine algae and salt scrub cleanses and re-energizes the body's biomagnetic field and lymphatic system, and a seaweed wrap pulls toxins out of the system while also hydrating the skin. This ritual helps to reduce cellulite while improving the texture and hydration of the skin, and concludes with a Purifying Marine Algae facial to address impurities.
Samui Detox Ritual
Designed to clear the body of impurities, this ritual begins with a detox vital massage targeting problem areas such as the hips, stomach, thighs and upper arms. Using focused massage techniques and a detox balm made of Thai chilli with orange and grapefruit oils, the massage aims to stimulate the metabolism and circulation, and reduce water retention. A chi nei tsang treatment follows, addressing the abdominal area to aid digestion and internal cleansing and release vital energy. Guests are then invited to retreat to the privacy of their own villa to conclude the treatment with a herbal bath of natural Thai kaffir lime, lemongrass and ginger to continue draining impurities out of the body.
Biorhythm Restoring Ritual
The Biorhythm Restoring Ritual aims to rebalance the body's natural biorhythms and deeply relax the nervous system. A mineral-rich Energy Scrub and Bioenergy Mud Wrap help to charge and restore the body's biomagnetic energy field through the release of negative ions. A Kundalini Back Massage using warm poultices and chakra-balancing techniques relaxes and balances the nervous system, and the ritual concludes with a gentle rose oil marma-point facial massage to stimulate the flow of energy.
Note: Prices and treatments are subject to change without notice. Prices are subject to 10% service charge and 7% government tax.