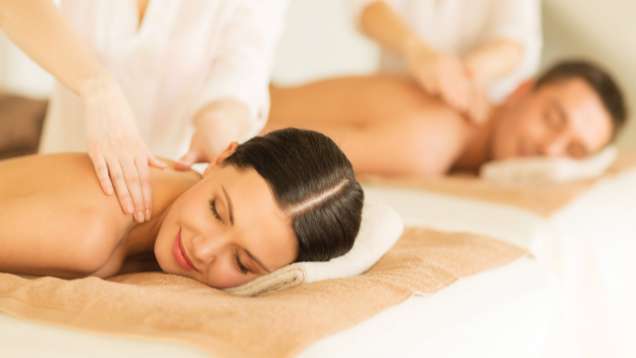 Samui Lovers' Ritual
This indulgent ritual for two begins with a natural Samui coconut scrub – freshly made on site at the Spa from coconut, jasmine rice and turmeric – to gently polish and exfoliate the body. A chakra crystal massage follows, with two therapists working in harmony using alternating massage strokes, ylang ylang and jasmine oils, and healing warm crystals to balance the chakra energies. This deeply relaxing experience concludes with a romance bath of coconut milk, ylang ylang essential oil, and rose petals in the privacy of your villa.
Note: Price is per couple.
Couple's Connection
This ritual, designed to bring couples closer, focuses on the head, water and crown chakras to connect the mind, body and spirit of each person. Using exquisite natural oils of jasmine to stimulate the flow of love, rose to promote deep love, and orange blossom to uplift the soul with higher energy, the treatment imparts feelings of deep relaxation through sensuous lymphatic drainage and gentle chakra healing, culminating in the pouring of warm oil over the third eye to restore and relax every sense. Side by side, couples receive a full-body scrub, chakra-healing techniques, and body and facial marma massage to open the energy fields.

Note: Price is per couple.
Divine Night Ritual
Your Divine Night spa ritual begins the moment you step onto the moonlit spa walkway, surrounded by the mysteries of the night and the sounds of the jungle. Drift away and allow the power of therapeutic touch to transport you to a world of harmony as you enjoy ancient massage techniques applied using a blend of warm coconut oil and flower of ylang ylang essential oil. Your energy centres will be balanced through sound-healing techniques using Tibetan singing bowls, and healing crystals will energize the Swadhisthana chakra, associated with sexuality and relationships. Your experience will conclude with a private romantic bath treatment.
Note: Price is per couple.
Note: Prices and treatments are subject to change without notice. Prices are subject to 10% service charge and 7% government tax.