Some islands fall short when it comes to looking past the beautiful beaches. But tiny and bustling Koh Samui – which offers everything from temple tours and waterfall hikes to Thai boxing classes and even ballet – is big on extracurricular activities. Here are the best reasons to explore beyond the shore.
Dine with a view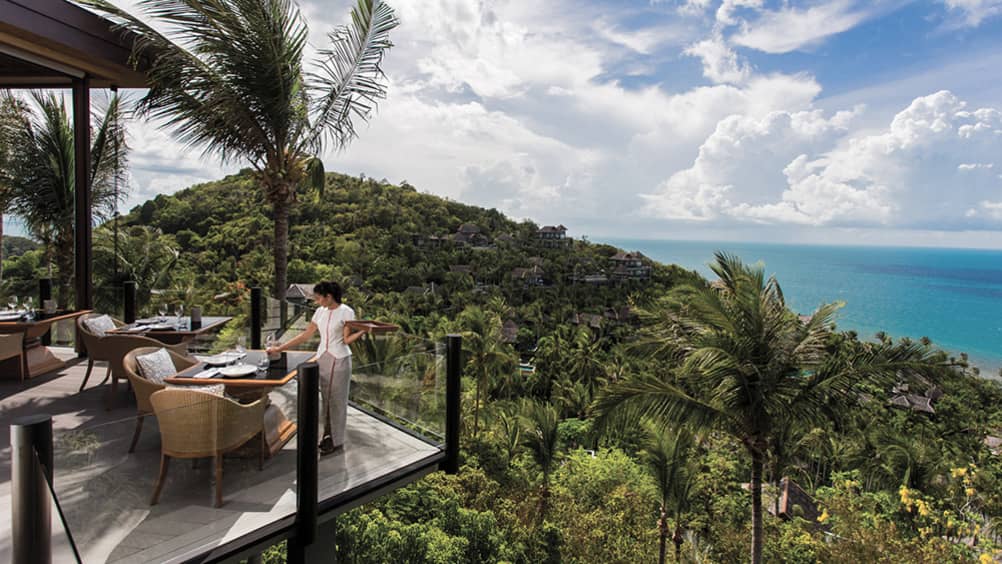 Photography courtesy Four Seasons Hotels and Resorts
KOH, Thai Kitchen & Bar is perched on a palm-shaded hillside with ocean views. A locally inspired restaurant at Four Seasons Resort Koh Samui , KOH boasts coconut and teak wood furniture and chandeliers inspired by Thai birds' nests that give this open-air space, designed by architect Bill Bensley, an earthy feel. Travertine marble, silver and chedi-shaped lanterns pay homage to temple architecture. Executive Chef Chris Patzold and sous-chef Sumalee Khunpet dish up new and old Thai classics using local ingredients such as Thai seaweed, oysters and sour tamarind leaves. The changing menu is both flavourful and surprising.
Try a local sport
Climb into the ring for Muay Thai kick-boxing lessons taught by a professional fighter. The ocean-view ring at Four Seasons Resort Koh Samui offers a range of courses teaching basic moves or advanced techniques. Conclude your lesson with a visit to a real kick-boxing match, available to those taking "pro" tutorials.
Dive with whale sharks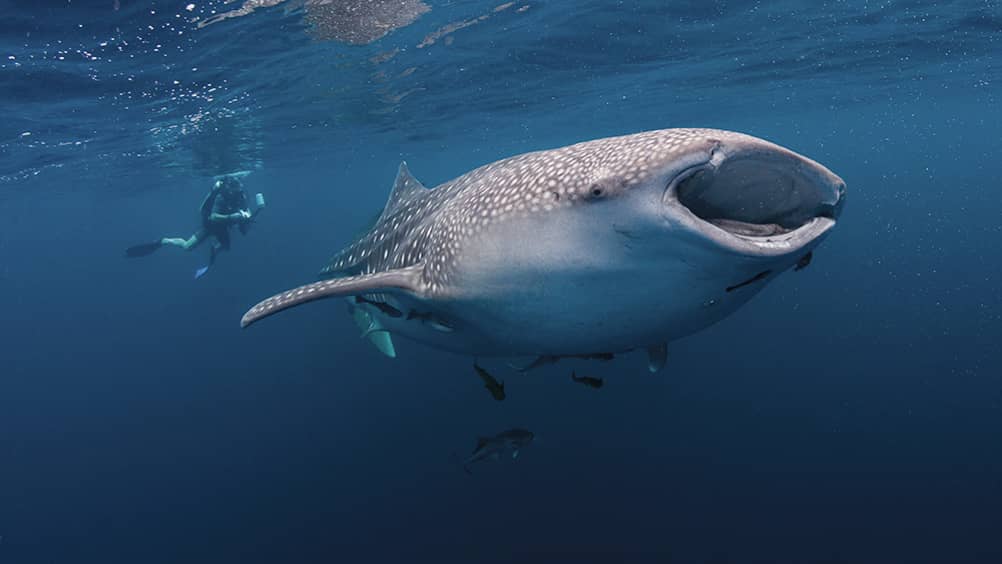 Photography Anthon Jackson
Notoriously elusive and increasingly rare, Koh Samui's whale sharks are breathtaking. Whale shark season, which typically runs between March and October, lures cruisers, divers and snorkellers who hope to get a glimpse of the gentle, migratory giants. The tried and trusted 100 Degrees East & Discovery Dive Center can facilitate excursions calibrated to any skill level. For those who arrive in the off season, the tropical island of Koh Tao, a 90-minute ferry ride from Samui, is home to some of the best snorkelling in the Gulf of Thailand.
Explore a sweet alternative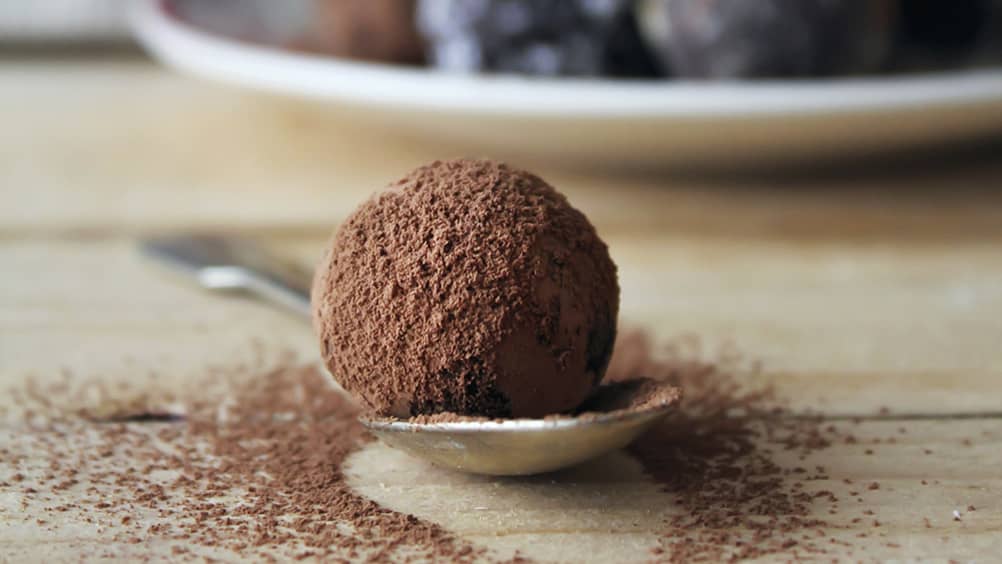 Photography courtesy Four Seasons Hotels and Resorts
Visitors in need of a break from the beach, or those seeking a rainy-day alternative, should head to the rustic fishing village of Laem Set, along Samui's breezy southeast coast, to experience Villa Chocolat, a charming Belgian-owned café. The strong coffee and handmade sweets, such as banana lemon bavaroise, Chantilly swans and fondant chocolate cake, are beloved by expats homesick for European comforts. Villa Chocolat is also home to a popular ballet school.
Hike amid island beauty
Trek to Koh Samui's interior to experience pristine jungle with secret waterfalls, charming villages, and tropical flora and fauna. The Mae Nam trail starts above Mae Nam Beach on a small road signposted for quad bikes, but it detours to a steep 7-mile (11-kilometre) track leading south to Lamai. The three-hour hike provides stellar ocean views through lush coconut plantations and beautiful waterfalls where you can pause and cool off.
Shop authentic handicrafts
The renowned handcrafted-jewellery boutique Nature Art Gallery, owned by gem experts Micha Trav and his partner Shai Shalom Nissam, is one of the island's best spots to browse or buy gold, silver, and semi-precious or precious stones. Browse the selection of turquoise, indigenous Thai stones and materials like Shiva Eye shell and tektite.
Sample fresh fare
At casual, vegetarian-friendly Sweet Sisters Café, fresh and healthy Southern Thai cuisine is served up with organic and locally sourced ingredients. Rice is never polished, seafood is never farmed and Chef Noiy never buys factory chickens. The result is a menu of must-try dishes, including toothsome fishcakes, spicy and fragrant tofu laab, refreshing tamarind ginger coolers and homemade lime-coconut parfaits.
Take in Thai culture
The tranquil Buddhist temple of Wat Plai Laem is overlooked by many tourists, who opt instead to visit the flashier Big Buddha temple. Wat Plai Laem's lakeside complex is home to a small family of cats, dogs and free-range chickens, and features several different spiritual depictions, including a colourful 18-armed Chinese goddess and a fat, smiling Chinese Buddha.
Four Seasons Resort Koh Samui Thailand

Go on a magical bike ride
Beyond its famed beaches, Koh Samui is home to scenic coconut trails, quaint fishing villages and tropical rubber plantations – and these hidden treasures are best explored on a bicycle! Embark on a guided ride with
Samui Bike Tours
, leisurely pedaling through lush landscapes as your guide reveals interesting stories along the way. Observe the fascinating journey of rubber at a local plantation, from the extraction of the sap to the creation of the final product. Stop by a coconut processing plant where you enjoy young coconut juice and mingle with the locals. This magical bike ride comes with new experiences, fresh air and picture-postcard views…what's not to love?