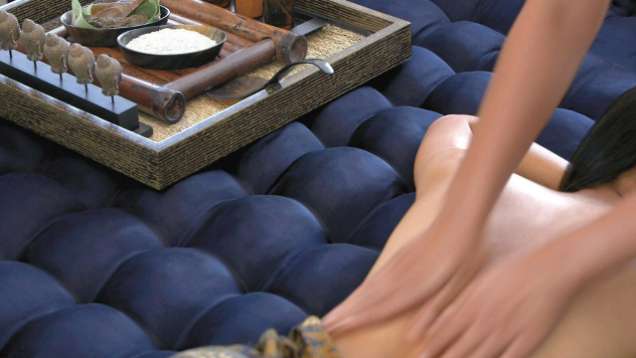 Balinese massage is renowned the world over. We are pleased to offer you the opportunity to experience authentic techniques in a range of relaxing variations at the Spa at Four Seasons Resort Bali at Jimbaran Bay.
Balinese
Traditional Balinese massage techniques are passed down through generations. The healing massage uses long strokes, gentle skin rolling, deep kneads and foot reflexology. A restorative massage oil, made from herbal coconut oil blended with essential oils, is chosen especially for you.
Rwa Binada
To balance the yin and yang energy within, known in Bali as rwa binada, your therapist uses warm and cool marble stones that provide a subtle ultrasound, allowing a deep relaxation of the muscles. During a meditative massage, two therapists work together to coordinate the flow of the stones that are placed on the body's energy centres.

Tropical Magnolia
Created exclusively for Four Seasons by Sodashi, this fragrant, chemical-free treatment features Bali's native tropical magnolia flower. Healing and enriching, the journey also uses champaka, an essential oil that is deeply nourishing to the skin and known to be emotionally uplifting. After a foot ritual that includes a scrub of mother of pearl and sea salt, your therapist will treat you to a full-body massage that features long, gentle strokes and warm towels used for joint stretches. A perfect revival treatment for jet lag, this treatment is also excellent for the digestive system.
Harmony
Experience the deeply restorative benefits of two therapists working in synchronized flow. Four hands in seamless coordination massage the body, relieving tension by using a blend of massage techniques from East and West.

Ku Nye
This massage combines the techniques of lymphatic drainage and acupressure. Hot Himalayan salt compresses, infused with marigold and lavender, soothe and energize the body through the meridian channels. Tibetan in origin, this massage uses a blend of five essential oils to balance each of the body's five elements, restoring energy and relaxing the nerves.
Deep knead
This treatment brings deep concentration to specific areas of tension by warming the muscles with Balinese massage, then applying pressure-point techniques using the therapist's forearms and elbows, and ending with Balinese foot reflexology. We recommend that you warm your muscles in the steam room and sauna prior to this massage.

Aromatic
This aromatic massage, scented with a signature blend of essential oils, features medium-pressure rhythmic movements and pressure-point techniques to bring an overall feeling of well-being and relaxation.

Urban Antidote
This targeted treatment combines Indian-style head, neck and shoulder massage with reflexology for the feet and hands. Firm pressure eases muscle tension to improve blood flow, returning the body to a healthier equilibrium and decreasing the stresses of fast-paced city lives.

Oriental
This pressure-point massage is effective in relieving headaches, tension and backaches. The treatment features rhythmic dry massage based on Oriental theories, using thumb pressure and light stretches.

Note: Prices and treatments are subject to change without notice. Prices are subject to 21% tax and service charge.