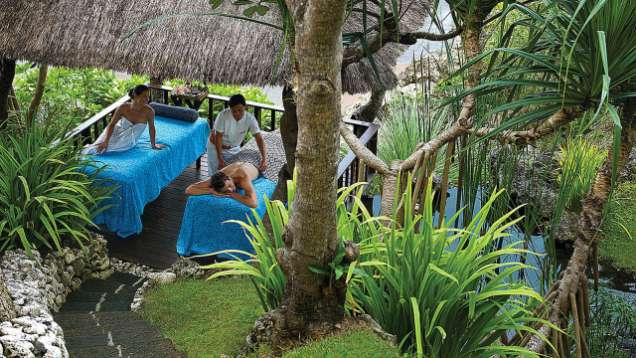 At the Spa at Four Seasons Resort Bali at Jimbaran Bay, share a transcendent experience with your partner as you connect with a side-by-side healing ritual.
Creativity and Desire
This powerful couples' experience works with the sacral chakra, located in the lower abdomen, which governs fertility, sexual virility, self-worth and creativity. It is also associated with emotional balance, desire and pleasure. When this chakra is balanced, it brings enhanced emotional gratification, higher self-esteem and free-flowing creative energy, and helps us let go of limitations and find a healthy balance in life. The treatment combines a deep lymphatic scrub, Vichy shower, and flowing massage using essential oils of jasmine, patchouli, rose and sandalwood. Happiness is renewed and the desire for life and love is reinvigorated.

Love and Connectivity
Ideal for strengthening a couple's connection, this experience works with the heart chakra. Located in the chest, this chakra is the centre of unconditional love, governing compassion and forgiveness, generosity and well-being. Balancing this chakra is important for the circulatory system, heart and thymus, and also helps fend off disease while nurturing spiritual love and devotion. Healing the heart chakra can help free us from limits and fears. This tender, side-by-side treatment – combining a foot wash, scrub, massage and heart chakra work – uses rose oil and warmed rose quartz to reconnect the body and mind to inner peace and stillness. After you share a romantic rose oil bath, equilibrium is restored, leaving you feeling at one with each other.
Biorhythm Ritual: Restoring Waters
This soothing ritual is also ideal for couples. See our Signatures of the Spa section for more details.
Note: Price is per couple.
Oceanfront Treatments
Unfolding in an open-air, oceanfront bale (traditional thatched-roof hut), these rituals offer an unforgettably romantic experience for couples. See our Oceanfront Treatments section for details on specific treatments.
Note: Price is per couple.
Note: Prices are per couple. Prices and treatments are subject to change without notice. Prices are subject to 21% tax and service charge.