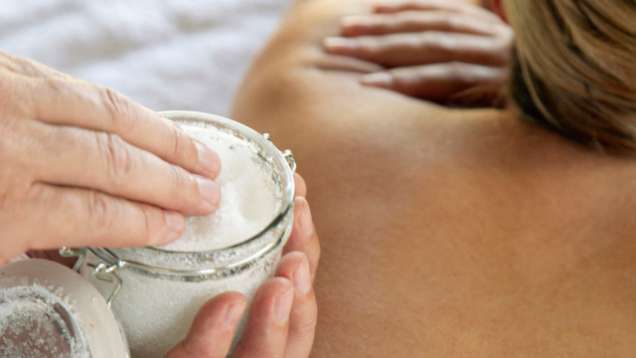 For total comfort and nurturing, your body is gently wrapped, allowing organic essential oils and other ingredients to add nutrition, detoxify and decongest.

Amethyst and Sapphire
This purifying experience begins with a full-body scrub using pearl and jasmine to calm the nervous system and re-energize the body. The amethyst and sapphire envelopment, combined with warmed Himalayan salt, stimulates circulation, regenerates skin cells and encourages cell growth. The treatment is soothing to your nervous system and elevating to your mood.
Detoxifying Algae
A detoxifying and results-oriented body treatment, this experience begins with a Himalayan salt scrub to smooth and refine the skin. Next, an envelopment of detoxifying seaweeds and essential oils, along with minerals and trace elements from seaweed extracts, stimulates circulation and assists in reducing water retention. This treatment is excellent for reducing cellulite and improving the skin's texture and hydration levels.
Aloe and Lavender
A perfect way to soothe skin that has been overexposed to the sun, this treatment begins with the application of a hydrating fresh aloe vera gel and calming lavender. Your body is then wrapped in banana leaves for a cool, refreshing experience. The treatment concludes with a relaxing back massage using a lavender moisturizer.
Lulur Jimbaran
Originally a beauty secret of Javanese royalty that was carried across the Java Sea by the Balinese, lulur is a luxurious body scrub. The treatment begins with a gentle, aromatic exfoliation to remove dead skin cells. Skin-nurturing yogurt soothes your freshly buffed body before you dip into a hydrating bath sprinkled with local fragrant flowers and enjoy a therapeutic cup of loloh, a Balinese herbal elixir. This is followed by a traditional Balinese massage and the application of body lotion.
Note: Prices and treatments are subject to change without notice. Prices are subject to 21% tax and service charge.