SPA
Asian Wellness and Healing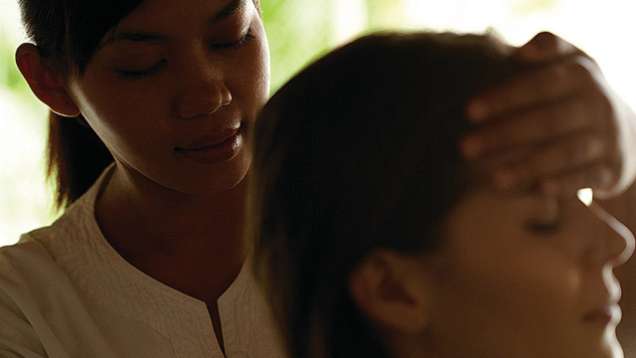 At the Spa at Four Seasons Resort Bali at Jimbaran Bay, discover the benefits of Balinese ayurvedic healing with treatments focused on balancing the body's seven chakras, the energy centres said to run along the spinal column.
Kundalini Crystal Healing
The subtle level of energy and light within the spinal cord is known in Sanskrit as the sushumna channel. The flow of energy here reflects the sympathetic and parasympathetic nervous system as a whole. Where energy pathways cross, there is a gathering of nerves, an electrical current of information, and an energy centre or chakra. According to traditional Balinese healing, these chakras must be balanced to stimulate a healthy flow of energy and resonance. This energy-restoring back treatment includes a massage of the marma points on the face to stimulate energy flow, then the marma points along the spine to stimulate the nervous system.

Neem Dream
This treatment experience starts with a marma-point head massage to release tension and clear busy thoughts. A full-body massage, in which warm herbal oil is poured over the body, follows. These techniques are known to help relieve stress and improve mental clarity, stamina and sleep. A hydrating facial using Bali's natural anti-ageing neem concludes the ritual, helping to reduce redness and soothe even the most sensitive skin.

Shirodhara
Warm herbal oil is poured gently onto the third-eye chakra – located directly between the eyebrows – identified by ayurvedic philosophy as the path to enlightenment. Warm herbal oil is also used during a full-body massage. This experience stimulates the nervous system to create pleasure and enhance relaxation.

Usada Jimbaran
This experience begins with a skin-smoothing full-body scrub. Then, during a full-body massage, your therapist pours warm oil on the skin to settle the nerves before nurturing the body with long strokes and pressure-point techniques. Shirodhara, the pouring of herbal oil over the third-eye chakra located between the eyebrows, helps to clear the mind of negative thoughts and balance emotions. With the body at peace, enjoy a warm flower bath while sipping a cup of Balinese loloh, a local organic elixir.

REIKI
Translated from Japanese as "aura massage," reiki is a method of spiritually guiding the life force energy. Your therapist taps into your natural radiance to nurture emotional imbalances and elevate your level of happiness. We recommend that beginners in reiki precede the treatment with a Balinese massage to relax the body and open the mind to receiving this subtle energy channelling.

Craniosacral Therapy
A light touch from skilled hands encourages the body's own natural healing. Your therapist works with the craniosacral channels along the sacrum that connect to the body's nervous system. Taking cues from your body, the therapist helps you release physical and emotional obstructions to promote health. Results can bring a meaningful emotional release and dreamlike relaxation. Repeated sessions can lead to improved stress management, physical pain relief and overall well-being.

Lightness of Being
Taking place in our oceanfront pool overlooking Jimbaran Bay, this supremely nurturing underwater therapy is performed by an experienced Watsu-trained healer. The session feels like a dance in the warm water. Your spine is supported and your weightless limbs are massaged while your muscles are gently stretched to create an inner lightness. Bringing a peaceful and meditative calm, this treatment is the perfect post-arrival experience to release thoughts of a stressful life at home.

Note: Prices and treatments are subject to change without notice. Prices are subject to 21% tax and service charge.