Our Extraordinary Experiences
A Karmic Cleansing Ritual in Bali
Submit to Bali's spiritual embrace with a blissfully restorative Karmic Cleansing Ritual.
Based on a traditional journey to self-renewal, it combines ancient therapies and sacred rituals to cleanse body, mind and soul of all negative elements, past and present.
Revel in the sensory vibrations of a Balinese gong 'sound bath'. Feel your stresses and strains dissipate with the long strokes of Balinese massage. Yield to the subtle power of energy balancing. Then be gently guided through simple yoga poses and breathing techniques to soothe the mind and reignite the body's subtlest energies.
To conclude, the climactic karmic cleansing – the ritualistic pouring of sacred water and flowers through a Balinese gayung – purifies the spiritual body and soul, flooding every essence of your being with a sense of pure, unadulterated bliss.
See you on the other side...
Reservations: +62 (361) 701010. Please contact the Spa for more details.
About the Property
Revitalise your body and mind in our holistic spa, state-of-the-art fitness centre, and infinity pool at Four Seasons Resort Bali at Jimbaran Bay.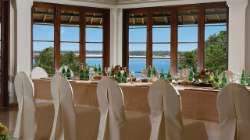 Event Rooms
Choose from a selection of flexible spaces for your cocktail party, business meeting, dinner gathering, or wedding celebration.