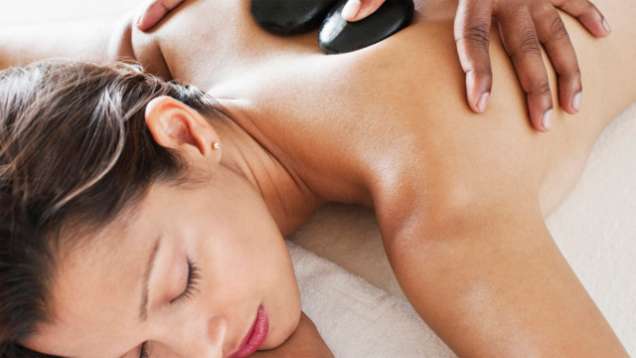 Swedish Alpine
A classic massage with light to medium pressure, this treatment incorporates long, flowing strokes and the kneading of muscles to promote relaxation and stress relief.
50 Minutes - 160 USD
80 Minutes - 230 USD
50 - 80 Minutes
USD 160 - 230
Call 1 (307) 732-5000
Therapeutic
Designed for those wishing for more direct pressure to be focused on the deeper structures of the body, this massage at Four Seasons Resort Jackson Hole provides relief of muscle tension and fatigue, especially after active sports like skiing and hiking.
50 Minutes - 170 USD
80 Minutes - 240 USD
50 - 80 Minutes
USD 170 - 240
Call 1 (307) 732-5000
Native stone
For centuries, Wyoming's Native Americans have revered the healing energy of stones. In this treatment, warm, smooth river stones are used in combination with organic oils to bring instant relief to tense muscles and sore joints.
50 Minutes - 170 USD
80 Minutes - 240 USD
50 - 80 Minutes
USD 170 - 240
Call 1 (307) 732-5000
Aromatherapy
This ancient healing therapy combines the nurturing powers of touch with aromatic therapeutic essential oils full of powerful properties, selected for each individual to promote deep relaxation, revitalization and sense of well being.

50 Minutes - 170 USD
80 Minutes - 240 USD
50 - 80 Minutes
USD 170 - 240
Call 1 (307) 732-5000
Reflexology
Experience overall relaxation, stress relief and improved health with this centuries-old therapeutic practice of hand and foot massage, focusing on pressure points that correspond to the body's vital organs and musculature.

25 Minutes - 90 USD
50 Minutes - 170 USD
25 - 50 Minutes
USD 90 - 170
Call 1 (307) 732-5000
Maternity
For the mother-to-be, this massage is designed to give gentle relief to the body during this exciting time of change. The treatment enhances comfort, improves circulation and promotes relaxation. Available only during the second and third trimesters.
50 Minutes - 160 USD
50 Minutes
USD 160
Call 1 (307) 732-5000
In-room
Our therapist brings the spa to you for a massage in the comfort and privacy of your guest room. Choose from Swedish, deep tissue, aromatherapy and reflexology treatments. Available both day and evening, depending upon availability.
50 Minutes - 230 USD
80 Minutes - 300 USD
50 - 80 Minutes
USD 230 - 300
Call 1 (307) 732-5000
Duo
Share your massage experience with someone you care about. In a spacious spa suite, in front of a cosy fireplace, two therapists provide the two of you with side-by-side massages. Enjoy your choice of massage treatment.
From 50 Minutes - 320 USD
From 80 Minutes - 460 USD
50 - 80 Minutes
USD 320 - 460
Call 1 (307) 732-5000
Treatment enhancements
Treatment enhancements are offered only as add-on options to full spa treatments.
Eco-parrafin
Enjoy a truly healthy and nourishing hand or foot treatment using eco-friendly paraffin, made entirely of plant-based emollients and pure essential oils. Choose from three captivating scents – Happy, a playful blend of raspberry and grapefruit; Escape, a clean, cool peppermint; or Reverie, a dreamy blend of vanilla and lavender.
Both hands and feet 40 USD
Hands only 20 USD
Feet only 25 USD
Scalp massage with Moroccan oil
Restore healthy, smooth and strikingly shiny hair. Moroccan oil revives over-processed hair damaged by environmental factors and chemical procedures. For maximum benefits, leave it in your hair after the treatment.
15 USD
Pure shea butter
Combine the relaxing experience of a massage with the soothing and hydrating properties of 100% shea butter. Add one of four essential oils: eucalyptus, lavender, grapefruit or lemongrass.
15 USD
Arnica muscle relief
During your treatment, your therapist will apply arnica sports rub to muscle groups that are sore or fatigued from your day of adventure. Arnica, combined with vitamin E to produce healthy-looking skin, helps relieve the discomfort of sore joints and muscles. For optimal results, add this enhancement to a deep-tissue massage.
15 USD
USD 15 - 40
Call 1 (307) 732-5000
Note: Prices and treatments are subject to change without notice.