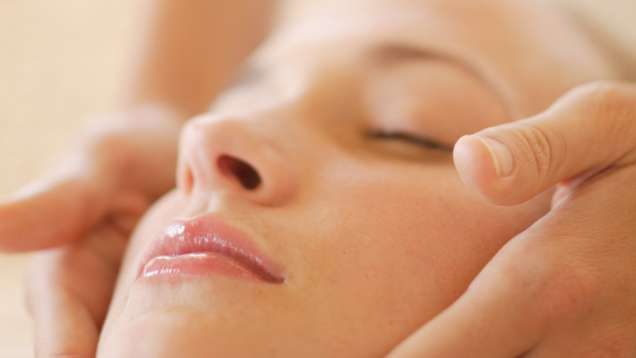 Rejuvenation NuFace Facial
This facial is otherwise known as Pilates for the face. With the use of Epicuren's Peptides serum and NuFace microcurrent technology the face is instantly toned, tightened and lifted. Peptides function as the skin's protein building blocks, contributing to collagen production and creating resilient results. The NuFace gently stimulates the skin, improving circulation, collagen production and smoothing fine lines and wrinkles. This is the perfect facial for those looking for an instant rejuvenation.
50 Minutes - 220 USD
50 Minutes
USD 220
Call 1 (307) 732-5000
Oxygen Luminescence Facial
Red LED Light therapy is used to diminish inflammation, stimulate elastin and collagen production and reduce the signs of aging. This is then followed by a super hydrating infusion, using a combination of oxygen, botanical serum and hyaluronic acid that plump the skin to deliver age-defying results. This nurturing treatment instantly produces a fresher, healthier appearance.
80 Minutes - 330 USD
80 Minutes
USD 330
Call 1 (307) 732-5000
Nutri-define Organic Luxury
Please call the spa for more details: (307) 732 5120
80 Minutes - 270 USD
80 Minutes
USD 270
Call 1 (307) 732-5000
Lymphatic Facial Massage
Detox and increase facial circulation with this 25 minute lymphatic treatment. Reduce puffiness, break up hyperpigmentation and return needed oxygen and nutrients back into the skin. This massage will stimulate the lymph nodes and drain excess fluid and toxins. Throughout the treatment algae oil is used, inhibiting hyaluronic acid break down which is responsible for the youthful glow of the skin
25 Minutes - 100 USD
25 Minutes
USD 100
Call 1 (307) 732-5000
Pure Radiance Age Defying Facial
Visibly reduce the signs of aging beginning with Red LED light therapy used to stimulate collagen production and diminish inflammation. Next the skin is infused with a hydrating hyaluronic acid serum using hyperbaric oxygen to plump the skin smoothing out fine lines and wrinkles. The facial muscles are then stimulated with NuFace micro-current technology to lift, tighten and tone the ski. Finish with a relaxing lymphatic facial massage to detoxify and increase facial circulation bringing oxygen and nutrients to the skin. Final results are pure radiance!
100 Minutes - 395 USD
100 Minutes
USD 395
Call 1 (307) 732-5000
Oxygen Infusion Facial
This results-driven facial includes the use of hyperbaric oxygen and a serum consisting of skin-renewing botanicals and hyaluronic acid. Using oxygen under light pressure aids the delivery of these age-defying ingredients in this modern treatment. Oxygen promotes natural collagen and elastin production, improving skin texture while visibly smoothing fine lines and wrinkles. It is an ideal treatment right before a special event, for jet lag or whenever an amazing glow is desired.
50 Minutes - 230 USD
50 Minutes
USD 230
Call 1 (307) 732-5000
Deep Cleansing Facial
The detoxifying treatment gently draws out impurities while increasing and stimulating circulation, promoting healing and infusing skin with nutrients creating a clean, hydrated glow. Purifying extractions will be performed upon request during the facial.

80 Minutes - 260 USD
80 Minutes
USD 260
Call 1 (307) 732-5000
Custom Facial
After careful evaluation by your aesthetician, this facial is customized with specific treatments and products to cater to the unique needs of your skin.

50 Minutes - 180 USD
80 Minutes - 260 USD
50 - 80 Minutes
USD 180 - 260
Call 1 (307) 732-5000
Gentlemen's Facial
The perfect way for men to combat the aggressive effects of shaving, pollution and climatic changes. Offering tender care, this treatment incorporates steamed towels, wrapped around the face barber style to detoxify and cleanse. Balms and lotions then exfoliate, hydrate and calm the skin. Attention is also given to the neck, shoulders and scalp.
During the 80-minute treatment, feet receive a massage.

50 Minutes - 180 USD
80 Minutes - 260 USD
50 - 80 Minutes
USD 180 - 260
Call 1 (307) 732-5000
Treatment enhancement
Lip rescue
This treatment's ultra-healing properties will make a difference for sun- and wind-stressed lips with only one application. A delicious brown-sugar scrub helps exfoliate dry skin, while cinnamon helps to stimulate circulation. Next, a mask of Miracle Lips infuses the lip tissue with 25 organic butters, bee propolis enzymes, peptides and vitamins.
15 USD
Eye-brightening antioxidant treatment
Fight free radicals with this preventative treatment, which uses a mixture of vitamins, nutrients and essential oils to help lighten and soothe delicate skin around the eyes, as well as stimulate cellular rejuvenation.
25 USD
USD 15 - 25
Call 1 (307) 732-5000
Note: Prices and treatments are subject to change without notice.