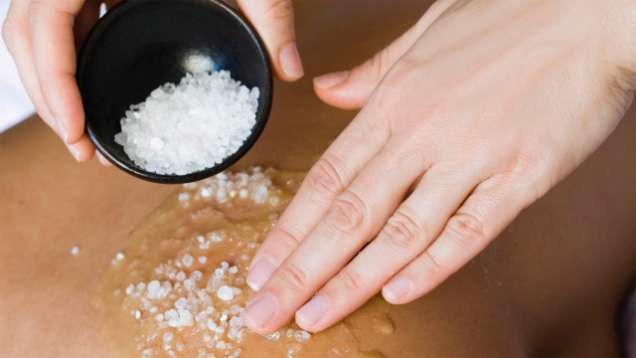 Aroma-Quench Body Elixir
This powerful treatment begins with full-body brushing from head to toe, which provides restored calm and balance, increased circulation and toxin elimination while gently removing dead skin cells. Next, be enveloped in steamed herbal sheets allowing warmed essential oils to condition and hydrate. Then fall into total relaxation with a soothing massage.

Awaken (80 minutes)
Experience the healing, detoxifying and enlivening effects of coffee on the body. This result-oriented treatment begins with a full-body brushing followed by a coffee, cinnamon and white clay wrap to remove dead skin cells and promote detoxification. Next, enjoy a coffee, cinnamon, cream and raw sugar scrub that helps stimulate circulation and rejuvenate the skin. To conclude the treatment, enjoy either an invigorating massage or a lymphatic drainage massage incorporating vanilla lotion to decrease water retention and enhance the slimming effects of the treatment.
This treatment is not recommended for those sensitive to caffeine.

Espresso (50 minutes)
This 50-minute Espresso version of our Awaken treatment concentrates the healing elements of cinnamon and coffee in a body scrub, and also includes an invigorating massage using vanilla lotion.
This treatment is not recommended for those sensitive to caffeine.

Mountain Clay
This treatment lets you experience the benefits of natural clay, which has been used for centuries to nourish and detoxify. Your journey begins with a loofah body-brush as preparation, followed by a luxurious application of warmed clay that penetrates the skin while you relax amid steamed herbal sheets. A cascading shower rinses away the clay, then an application of our custom wild sage lotion nourishes and seals in the clay's benefits.

Shea Butter Skin Lustre
For dry, parched skin, shea butter is luscious and deeply nourishing. During this body scrub and wrap combination, your skin is gently buffed with a shea butter exfoliator and rinsed. A warm shea butter body wrap provides deep conditioning to leave skin soft. Choose from a variety of scented shea butters.
Note: Prices and treatments are subject to change without notice.