Room Rate
Best available room rate. Our most flexible option.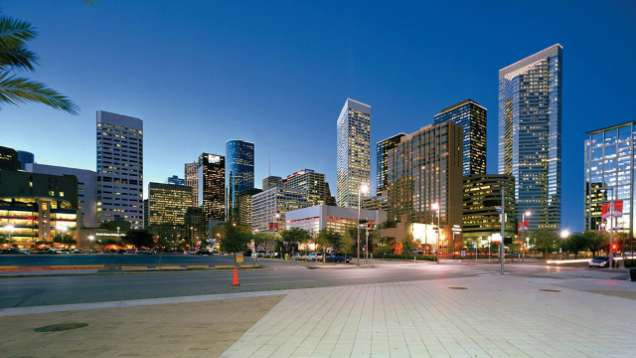 Shopping
The Galleria in Uptown Houston is perhaps the best place to begin a Houston-style shopping tour. The Galleria complex on Westheimer at Post Oak is a 2-million-square-foot (186,000-square-metre) retail shopping mall of more than 300 stores, including Neiman-Marcus, Saks Fifth Avenue, Gianni Versace, Tiffany & Co., Gucci and Fendi.

Highland Village Shopping Center, in the 4000 block of Westheimer, is an old favourite for Baby Boomer customers. Look for Tootsie's, Williams-Sonoma, Pottery Barn and La Madeleine French Bakery and Cafe.

In the River Oaks section of town, you'll find Houston's first shopping centre, The River Oaks Center, home to Houston favourites such as Events (high-end stationery and home accessories), Circa Gallery (artful accessories), BB1, Ann Taylor, Talbots, Cotton Club (sportswear) and The River Oaks Theater (an arts film cinema). It is located approximately 5 miles (8 kilometres) from the Hotel, a 10-minute drive.

The Shops in Houston Center is a three-level shopping mall connected to the Hotel via a climate-controlled skywalk. Beneath the city's downtown streets, the tunnel system has shops and restaurants, and provides comfortable access to the major downtown buildings and Four Seasons Hotel Houston.

For those guests interested in getting out of the city limits to shop, why not take a trip to Old Town Spring? This shopping area is a quaint little settlement of turn-of-the-century buildings housing gift shops, bakeries, antique stores and restaurants. Located off 1-45 North at Spring Cypress Road, Old Town Spring is 24 miles (39 kilometres) or 35 minutes from the Hotel.

Seasonal highlights
January
Houston's mild climate and lush landscape make it the perfect place to enjoy outdoor activities. Houston boasts more than 100 golf courses, 334 municipal parks, miles of bike trails and several arboretums. Recommended golf courses include Memorial Park Golf Course, TPC The Woodlands, Cypresswood Golf Club, Southwyck and Tour 18.


February – March
The Houston Livestock Show and Rodeo celebrates Texas' traditions as only Houston can - with size, sizzle and style. After 37 years in the world famous Astrodome, the world's largest rodeo moves to its spetacular new home at the Reliant Stadium. Among the highlights are the rodeo competition, award-winning chili and other country fare, concerts each night by country-and-western, pop, rock and jazz superstars; and a Livestock Show featuring acres of animals raised by young farmers competing for scholarships. Late February to early March, annually.


March
If guests are visiting Houston with their families, they should consider a trip to the Museum District. The playful, hands-on Children's Museum of Houston informs and entertains children with magical displays.


April
Just a 45-minute drive from Four Seasons Hotel Houston, you'll find the Texas Gulf Coast, with its inviting beaches and historic strand area. Visit Moody Gardens on Galveston Island, which offers the rainforest and discovery pyramids, along with an IMAX Ridefilm and features the region's only 3D IMAX theatre. Also visit Schlitterbahn, Galveston's newest attraction. This indoor-outdoor convertible waterpark is open year round. During the months of October to mid-April, visit the Wasserfest section of the park, featuring indoor water activities and rides, all with heated water.


May
Take a day trip to Splashtown Houston, which draws many visitors annually and provides thrilling water rides for the whole family.


June
Major league baseball has arrived in downtown Houston and the Houston Astros are playing in a new, state-of-the-art, retractable-roof stadium. Minute Maid Park is a short walk from Four Seasons Hotel Houston and provides the perfect outing for summer fun!


July
During the dog days of summer, relax at the Kemah Waterfront with its inviting boardwalk atmosphere featuring great seafood restaurants, amusement rides and retail stores.


August
For relief from the heat, head to the Uptown area and visit one of the most famous shopping centres, The Galleria, a collection of restaurants and shops centred around a giant indoor ice skating rink.


September
Football season kicks into high gear in September. Come cheer on your favourite team or hometown superstars, the Houston Texans, in Houston's world class NRG Stadium. The stadium features the first retractable roof and the closest front row seating in the NFL, a natural grass field and seats 69,500.


October
Visit one of Houston's award-winning performing arts groups. Eight reside in Houston's Theatre District, just blocks from Four Seasons Hotel Houston. Among those companies in the Theatre District are the Houston Ballet, Houston Symphony, Houston Grand Opera, Theater Under the Stars and the Alley Theater.


November
Just a 30-minute drive from Four Seasons, the Houston Space Center is a fascinating place for guests to visit. At the facility, visitors can explore the past, present and future of manned space flight, land the space shuttle or touch a moon rock.


December
Get away from the stress of the holidays with a visit to the Museum of Fine Arts. The museum houses an impressive collection of Renaissance works and Impressionist and Post-Impressionist paintings.
A global powerhouse in industries from energy to medical research, Houston's entrepreneurial spirit is renown. It's also a leader in fine arts: book a show in the theater district, or check out one of the many fine arts museums. And don't forget about the professional sports teams – MLB's Houston Astros, the NBA's Rockets and the NFL's Houston Texans all make their home here. MLB and NBA sporting venues are a short walk from the Hotel.
Quick Reference
Time zone
GMT -6 hours
Central Standard Time

Language(s) spoken
English and Spanish
Electrical system
Local voltage is 110 to 120 volts AC. Adapters available; please request through the Concierge.

Shopping hours
Daily 6:30 am to 10:00 pm
Working hours
Monday to Friday 8:00 am to 5:30 pm