Chinese Wellness Ritual
An exquisite Asian therapy that takes place on a heated marble table within the steam room.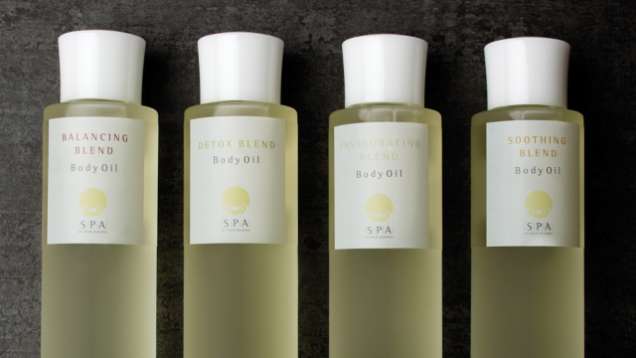 Signature products
The Spa at Four Seasons Hotel Hong Kong offers the following signature products in the Spatique on the sixth floor of the Hotel. Choose from the following.
The body oils are available in the following four blends, one encapsulating the unmistakable fragrance of the Spa and the others specially created to invigorate, balance and detoxify.
Soothing blend
The signature fragrance of the Spa at Four Seasons Hotel Hong Kong contains essential oils of vanilla, ylang-ylang, mandarin, jasmine and cedarwood to help soothe tension and stress by calming the spirit and breath and promoting healthy, hydrated and rejuvenated skin.
Balancing blend
A blend of seven oils for each of the seven chakras, this blend contains geranium for the crown chakra, bergamot for the third-eye chakra, cedarwood for the throat chakra, lavender for the heart chakra, patchouli for the solar plexus chakra, ylang-ylang for the sacral chakra and marjoram for the base chakra. The blend of oils brings relaxation and balance to the nerves and emotions for peace of mind and an overall feeling of balance and calm.
Detox blend
This blend of juniper, grapefruit, fennel and eucalyptus is ideal for draining, cleansing and clearing the circulation to combat water retention. This blend is also ideal after over-indulgence due to its detoxifying properties, and is especially good as an immunity booster when you are feeling under the weather.
Invigorating blend
Enjoy this refreshing and energizing blend of lemon, ylang-ylang and peppermint essential oils developed to encourage clarity of thought and improved concentration. This blend also helps to calm headaches and soothe digestion.
For further details or to make a purchase, please call the Spa at (852) 3196-8900 or visit the Spatique on the sixth floor of the Hotel.
Note: Prices and treatments are subject to change without notice. Prices are subject to a 10% service charge and vary from weekday to weekend.